Posted Veronika Volgina
Date: June 29, 2017 at 1:54 pm
A transforming do-it-yourself bench is not only comfortable, but also beautiful

The owner of any site wants to make it beautiful and attractive. In this case, I want every thing in the garden was perfect. Sometimes, incredible efforts and big money are invested in it. However, practice shows that it is possible to do much less victims. So, for example, a transforming bench, which you can easily do with your own hands, is able to decorate a personal plot and add comfort and convenience to everyday life.
Transforming bench - what it is and how it works
Any country furniture should be multifunctional and comfortable - it guarantees a comfortable outdoor recreation and a pleasant pastime. An interesting option that will make any site owner happy is a transforming bench.
Garden bench in the performance is not so difficult as it may seem to many at first glance.In the blink of an eye, the structure can be transformed from a usual-looking bench into a comfortable table of considerable size, which has two benches on each side. And after use, you can return the furniture to its original position with a slight movement of the hand. The main thing in this construction is moving parts, the mechanism and their firm fixation.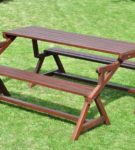 Folding option with 2 benches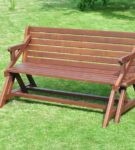 Folding option
Types of transforming benches
Each owner selects a type of bench for himself: someone needs to have a bench for 3 or more people, and it's enough for someone to organize a small table and 2 seats that look like a chair. There are a lot of options for assembling the structure, however, we will select several classical types below:
Bench-table with benches.This kind of transformers in a matter of seconds turns from one bench into a complex from a table and two benches, accommodating a total of 5-6 people. It is most common today, as it takes up little space and allows you to accommodate a large number of guests.
Bench-constructor.In comparison with the previous one, this option is more modest.In a collapsible state, the design can serve as a bench on which many guests fit. When there are no guests, the shop can be turned into two seats (with armrests or not - all at will) and a table in between. On the table, in turn, you can place a laptop, books or other items. This design is functional and very convenient.
Foldable flower bench.This type of construction is very similar to the previous one, but it has its own features. Externally, the shop looks like a piano, but instead of the keys on the seat there are grooves and cells in which the back parts are embedded. Many people associate such a bench with a blooming flower, so it has such a name. When folded, the design is a sofa, easily transported to any place. Once you open the "petals" of the bench, you can enjoy a pleasant and comfortable rest on a comfortable bench. The main feature of the "flower" is the ability to move the backrest elements as you please.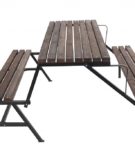 Classic bench with benches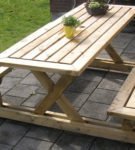 Transforming bench with benches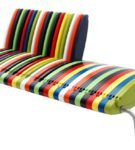 Bright colors of flower benches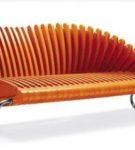 This bench is revealed as a flower in the morning.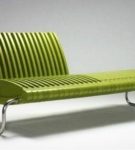 Flower bench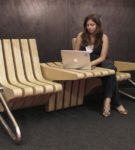 Designer bench with a table in the middle
Design bench
Functionality and convenience
Multifunctional garden bench-transformer is an element of furniture that can be used as a table and as a bench, which makes it possible to save space on the site. The design will become an indispensable assistant in the country, where guests are always present.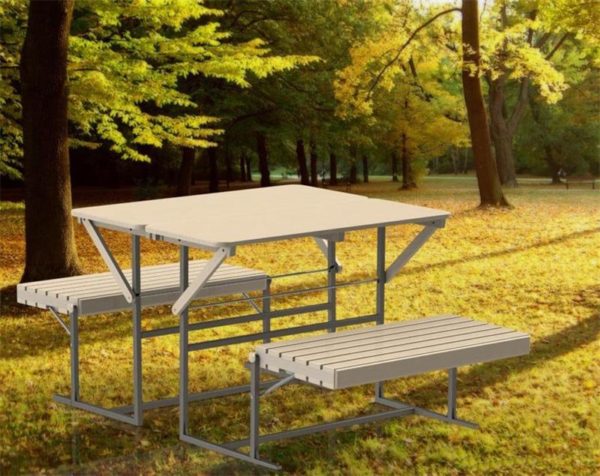 Multifunctional piece of furniture
A popular transforming bench is not in vain so common among summer residents and owners of gardens - it has many advantages that make it stand out against other similar elements of garden furniture.
Benefits:
Multifunctionality. The conversion of a bench into a table with benches takes place in a matter of seconds through simple manipulations.
Convenience. The design is convenient to transport from place to place, as it is easy to fold and unfold.
Saving space. The bench does not take up much space, which makes it compact and practical during operation.
Durability. Correctly selected material will provide the bench with a long life.
Simple mechanism. With a folding mechanism even a child can cope.
Preparing to create a bench
Selection of the optimal material for manufacturing
Such an element of furniture as a transforming bench can be purchased at any hardware store, but agree that it is much more pleasant to have guests and relax comfortably on their own products, as this is not only a beautiful design, but also a source of pride for you. However, before proceeding directly to work, it is necessary to determine the material from which the shop will be made.
As a rule, for the construction of quality benches are used wooden materials. Moreover, in addition to natural wood is allowed to use plywood or PVC. Undoubtedly, the first option will be more costly, but, as a result, it will serve you not for 3-4 years, but for about 35-40 years. In addition, wood has several advantages.
Benefits:
Environmentally friendly material;
Security;
Long service life.
Important note to pay attention to when using wood:Before use, be sure to cover the bench with antifungal and paint it with varnish.This will be an excellent prevention of rot.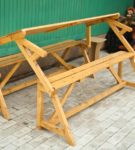 Convenient option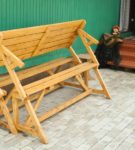 Wood is a safe material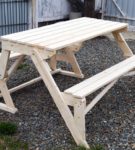 Environmentally friendly material - natural wood
Project drawing
In order to design was high-quality and convenient, it is recommended to make a drawing. If you for some reason do not have the opportunity to do it, then a ready-made scheme will be an excellent solution. In drawing up the drawing or its selection from the Internet should be observed4 conditions:
The image of the final structure should be tightly fastened in your head. When building, you should not miss it.
The dimensions of the future transformer bench should correspond to the area where the construction will be located.
The whole course of work is recommended to be compared with the drawing, so it must be clear and of high quality (in the case of printing photos from the Internet).
At the very beginning, it is necessary to calculate and fix the dimensions of the moving parts, which will subsequently be firmly fixed to each other.
Related news
A transforming do-it-yourself bench is not only comfortable, but also beautiful image, picture