Cabbage soup - a great idea for lunch
Daily cabbage soup is one of the brightest representatives of the first cuisines, like borscht - Ukrainian. They are famous and popular all over the world. They can be attributed to the "soups" section, although this is not very correct. The soup is cooked for about an hour and a half, and this delicious dish should ideally be cooked for about four hours. Let's begin.
A proverb is common in Russia since the time of Suvorov - "Shchi and porridge is our food." This is not surprising, since daily cabbage soup has been known since the IX century, after the delivery of cabbage. This soup was considered the food of the poor. Now, after 12 centuries, it can be found in the menu of any ordinary citizen.
There are a lot of recipes for this soup. Cook it with vegetables, meat, mushrooms, fish and so on. There are two types of cabbage soup - empty (only cabbage and vegetables are included) and full (with meat or fish). There are even such options: the preparation of daily cabbage soup with cereals or crushed potatoes, which are infused.
Today we will introduce you to different recipes, and which one to choose is your will.
Classics of the genre
Necessary:
- pork - 300 g;
- beef meat on the bone - 300 g;
- cabbage forks;
- Tomato - 2 pcs .;
- Onion - 2 pcs .;
- potatoes - 3-4 pcs .;
- carrot - 1 pc .;
- Tomato - 1 tbsp. l .;
- seasonings;
- sour cream.
The dish is very easy to prepare and quick to eat. This recipe will master everything. Tastefully does not work, just talking to you.
Cooking:
1) Prepare the broth: wash the meat, put in a saucepan, add water. It is better to choose bigger dishes. To keep the meat fresh, you need to add some salt from the very beginning. After boiling water, remove the "noise" and reduce the heat to very low. Boil the meat until it starts to separate itself from the bone. Estimated time is 2-2.5 hours.
2) Chop cabbage, peel potatoes, chop.
3) Remove the meat, cool. At this time, throw in the broth prepared vegetables. While everything will boil, peel and chop the carrots and onions. Fry with tomato paste and tomatoes.
4) Filling up our soup. Schi daily almost ready.
5) To cool the cooled meat into pieces or chop and send it to the pan.
6) Boil another 10 minutes with spices.
Before serving, fill with sour cream.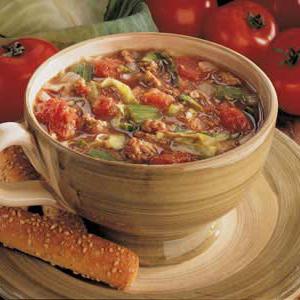 Sour soup - go look
Necessary:
- beef pulp - up to a kilogram;
- sour cabbage - half a kilo;
- potatoes - 0.5 kg;
- onion - 1 pc .;
- carrot - 1 pc.
Cooking:
The method of cooking this kind of soup is not too different from the previous one. We will not describe the stages in detail; we will write out only the main points.
1) Make meat broth.
2) Rinse the cabbage with water in a colander.
3) Take the meat, cool, cut into cubes or tear your hands.
4) Peel and chop the potatoes.
5) Add sauerkraut and meat to the soup.
6) Prepare a fry from onions and carrots, send to the pan.
7) Add potatoes to soup.
8) Salt, add spices, lavrushka.
9) Boil another 15 minutes.
Before serving, let stand for about 30 minutes, add sour cream. In some sources you can find a description of stewing sauerkraut before sending it to the soup. It is up to you, of course. You can also use smoked meat and stew.
Fasting on the threshold - mushroom soup, everyone is delighted
Many people keep fasting. The great post is the longest, strict and debilitating of them. During this period, you can not eat not only meat and all animal products, but also fish. They come to replace various vegetables and fruits.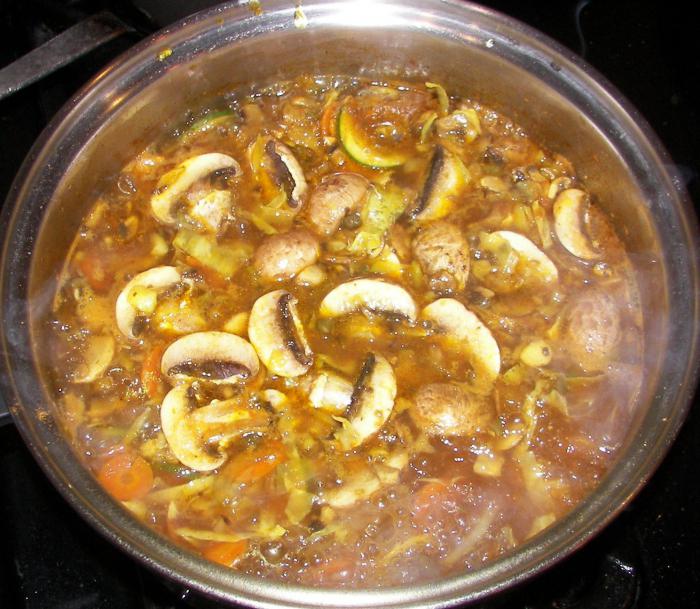 But what to do when it comes to soup, and even more about soup? There is an exit. Mushroom soup is very saved in this situation.A tasty and nutritious dish diversifies your diet and makes the "fasting" softer.
Necessary:
- sour cabbage - 300 g (for the post, it is best to choose just the pickled one in order to saturate the soup);
- champignons - 200 g (or dried mushrooms - 250 g);
- potato - 3 pcs .;
- carrot - 1 pc .;
- Onion - 1 pc. (you can also green);
- seasonings;
Cooking:
This is the usual lean recipe. Daily soup, so you understand, differs in preparation in complexity and time.
1) Put a pot of water on a large fire, add mushrooms. If they are dried, they are pre-soaked. This will be our broth.
2) After boiling, let it sweat for another 10 minutes and add the cabbage. Put, do not hesitate. Someone loves more, someone less - there is no value.
3) Peel the onions and carrots, sauté on low heat until soft.
4) Cut the potatoes into cubes or straws, send them to soup with fried.
5) Add spices and boil another 20 minutes.
This soup is perfect for vegetarians - people who do not consume meat products.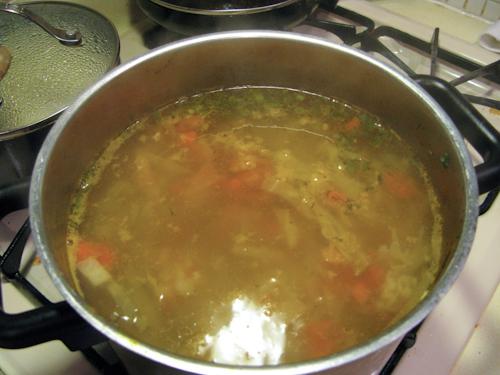 Of course, in this article we can not ignore such a recipe as daily cabbage soup from sauerkraut. Before full readiness, they are brought more than a day, but it is worth it.
Stewed soup
Necessary:
- more than half a kilo of fatty meat, it is better to take several types: pulp and bone;
- 600-700 g of salted cabbage;
- onion - 2 heads;
- carrots - 2 pcs .;
- butter - 100 g;
- spices;
- tomato paste - 6 spoons;
- garlic - 6 cloves.
Cooking:
1) Prepare meat broth.
2) Cook the cabbage for up to three hours. After an hour and a half add to it half a tomato.
3) Fry the onions and carrots. Add tomato, bring to readiness.
4) In boiling fat send cabbage and fried. Boil for an hour.
5) Disassemble myasco into another pan, add spices, lavrushka, and transferred garlic. Pour soup there. Switch off.
Schi day must not cool in the cold. Only after complete cooling is required to remove them in the refrigerator, and preferably in the freezer for a day.
The whole point of this preparation is that the cabbage becomes sweet, and the dish itself has an unusually soft taste and a pleasant color. When cooking, you can add flour or mash potatoes, so that the soup is thicker.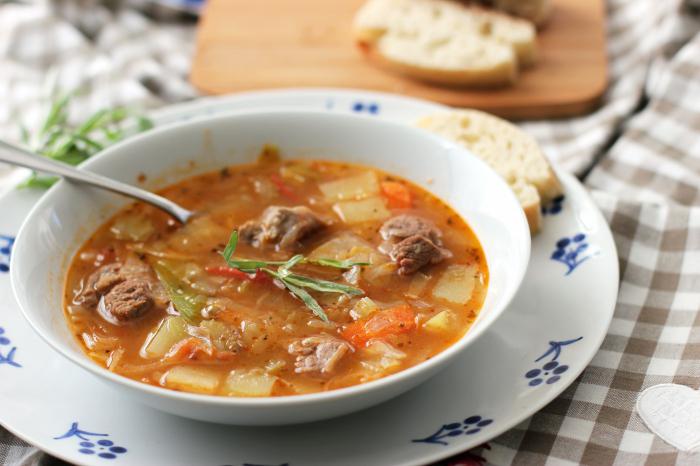 Fast and easy
To my deepest regret, you cannot cook daily soup in a slow cooker, and for those who do not have time, it will be difficult to do. We have found a recipe for you that will help in this matter.
Required:
- beef - half a kilo;
- cabbage - half a fork;
- potatoes - 4 pcs .;
- pepper salad - 1 pc .;
- Onion - 1 pc .;
- ketchup, tomato paste or tomatoes;
- carrot - 1 pc .;
- sunflower oil;
- seasonings, greens.
Cooking:
1) Pour oil into the bowl and select the "Frying" mode. Fry vegetables.
2) Put a whole piece of meat (not cut into pieces) to the vegetables, add cabbage. Daily cabbage soup differs from these in that fresh vegetables are not suitable for them.
3) Chop the potatoes with straw, add to the container, pour all over with water. Do not forget to salt.
4) Select the "Quenching" mode for two hours.
After this time, get the meat, cool, disassemble.
By the way, daily cabbage soup of sauerkraut also allows you to fry, and then cook the meat with vegetables.
Conclusion
A lot of different cooking options. Depending on the situation and time, you can choose what you prefer.
Related news
Cabbage soup - a great idea for lunch image, picture, imagery