Flying Cake: Cooking Recipe
Flying Cake is a sweet, creamy and crunchy dessert. He has been familiar to many people since childhood. After all, it was actively sold in stores in Soviet times. Although today such a dessert can be found in almost any hypermarket. However, most people say that the current cake "Flight" is markedly different from what was sold before.
If you hold this opinion, we offer to make this extremely tasty dessert by yourself.
Cake "Flight": a recipe for classic cooking
Today there are many options for creating such a dessert. However, we decided to present only his classic recipe. After all, knowing this method, you will be able to independently modify it, making the delicacy more tasty and beautiful.
It is no secret to anyone that Flying Cake is based on meringue cake layers. That is why for the basis we need only the following products:
peanuts peeled - about 150 g;
proteins of large eggs - 5 pcs .;
sugar, not too fine - about 320 g;
fragrant vanillin - a small bag.
Making a protein base
As a rule, classic cakes do not require the use of any special ingredients. And the dessert presented is no exception. For him, we need only the most simple and affordable products.
So, before you make a cake "Flying", you should make protein cakes. To do this, peeled peanuts need to sort, thoroughly washed and dried in a dry frying pan. Next, the product is required to put in the bowl and crush it into a large crumb with the help of tolkushki.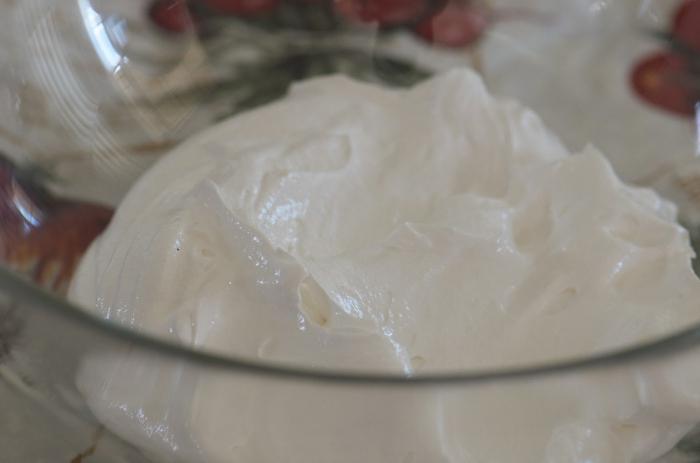 After the peanuts are ready, proceed with the preparation of the meringues. To do this, egg whites need to be slightly cooled, and then beat until persistent peaks appear. During this process it is required to gradually add not very fine sugar and vanillin. After that, the ingredients should be actively whipped for about 9 minutes.
Having carried out all the described actions, the lush mass in the amount of one big spoon should be put into the cornet, and in the rest of it, add the chopped peanuts and mix gently.
We form and bake cakes in the oven
In order to make the Flying Cake, the recipe of which we are looking at, is even and beautiful, the cakes should be baked on special baking paper. In this case, it is recommended to draw two identical circles with a diameter of 25 centimeters.
Thus, the whipped protein mass with peanuts should be divided into two parts, and then put on a peculiar shape. Next to the cakes, small figures should be deposited from the cornet.
After the products are formed, they must be placed in the oven and cooked at a temperature of 100 degrees for 2-2.5 hours. During this time, you will have very hard and fully cooked meringue, which later will not settle.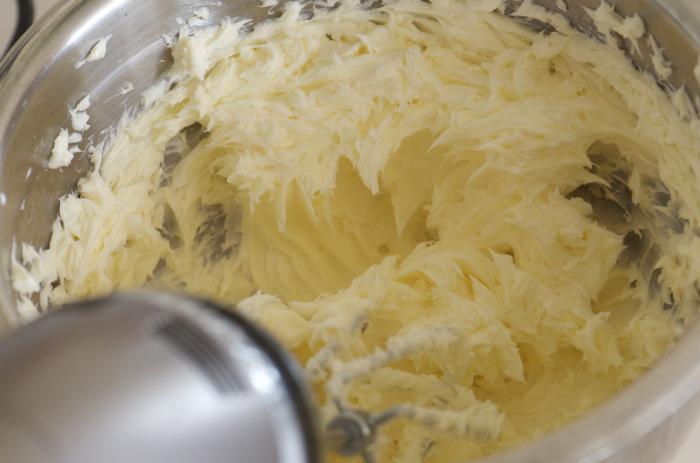 Products for the preparation of butter cream
As you can see, the "Flying" cake at home is not very difficult to do. Preparing cakes, you should begin to create a cream. For him we need:
Egg yolk - 1 pc.
Fatty fresh milk - about 100 ml;
sugar, not very large - about 200 g;
high-quality butter - about 200 g;
any cognac - about 1 big spoon;
cocoa powder - ½ dessert spoon.
Making a delicious cream
Before you form a cake "Flight", you should prepare for it a delicious cream. To do this, egg yolk must be mixed with fat milk, using a whisk.Next to the resulting mass is required to add sugar, and then put it on low heat. Bringing the ingredients to a boil, they should be boiled for a couple of minutes. In this case, the syrup should noticeably thicken.
Having received a viscous mass, it must be cooled at room temperature. While this is happening, you want to take a soft butter and beat it with a blender along with a bag of vanillin. In the process, the entire cooled syrup must be gradually introduced into the fluffy mass. At the very end, you must add one spoonful of brandy to the cream.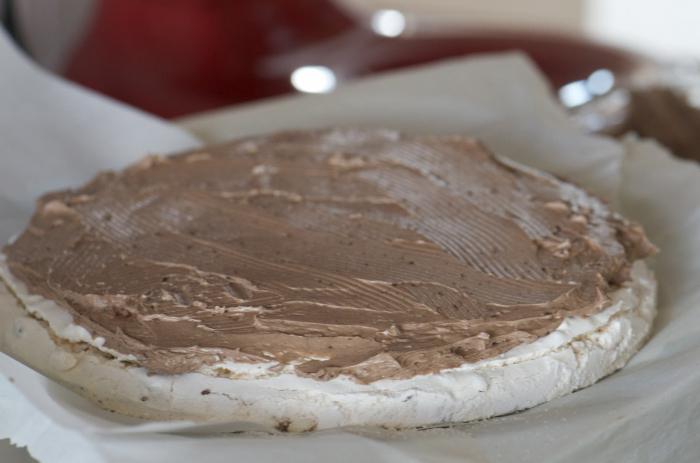 Cake assembly
Simple homemade cakes are easy and quick to assemble. The main thing with this - to show all his creative imagination.
So, for the formation of the dessert from the cream should be put aside 1 large spoonful of fluffy mass, and then mix it with cocoa. The remaining sweet mixture is required to split in half. One part is necessary to lubricate the first protein cake, and then, placing on it the second, use the rest of the mass. By the way, it is recommended to spread the meringue on the cake plate.
After the cakes are placed on each other and smeared with cream (including on the sides), they should be decorated.To do this, the previously made chocolate mass must be beautifully squeezed onto the surface of the dessert. It is also recommended to place separately baked meringue on it.
At the end of the rest of the roasted peanuts should decorate the sides of the cake.
How to serve?
After the formation of a delicious cake, it must be placed in the refrigerator and kept for about 2-3 hours. Next, the dessert should be cut into pieces and served to guests or households with hot tea.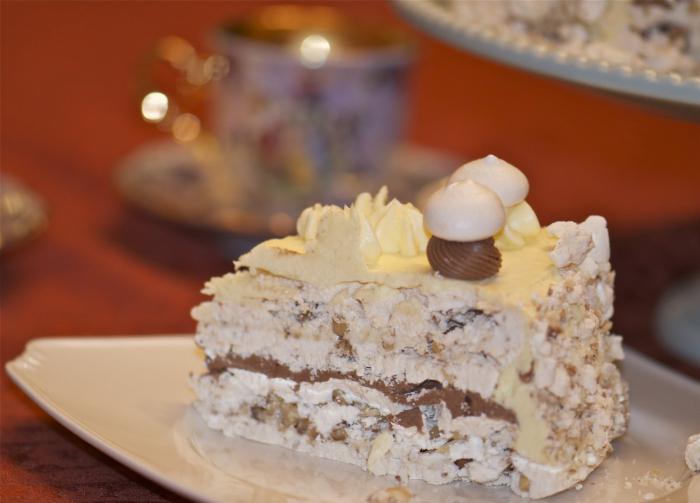 Cooking puff cake

Not everyone likes the dessert, which is prepared on the basis of protein cakes. In this case, we offer to make you a delicious puff cake. For him we need:
peeled almonds - about 100 g;
coconut milk - 400 ml;
condensed milk - about 400 g;
vanillin - a small bag;
high-quality butter - about 120 g;
store fat cream - about 250 ml;
sugar - about 50 g;
white flour - about 100 g;
coconut chips - about 150 g;
any kind of fruit (soft pears, peaches, bananas, etc.) - to use at discretion;
instant gelatin - three sachets or 30 g.
Making cream
Cake with fruit, prepared according to the recipe presented, turns out very tasty and beautiful. Before forming it, you should make a fragrant cream.To do this, lightly fry the almonds in the pan without adding oil. Next, in a bowl you want to mix coconut and condensed milk, and add vanilla. After that, dilute the gelatin and pour it into the mixture. Mix the components well and put them in the refrigerator for 20 minutes.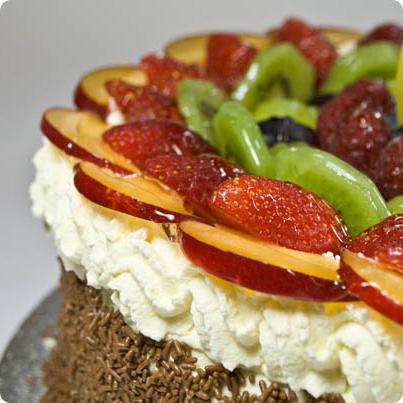 Cooking cakes
Cake with fruit should be formed in layers. For this we need not very thick cakes. For their preparation is required to knead the base.
Thus, it is necessary to mix high-quality butter with coconut flakes and white flour. The resulting heterogeneous mass should be placed in the refrigerator for exactly 30 minutes. In the meantime, you need to whip a heavy cream to a stable foam, and then put them into a previously prepared cream with toasted almonds.
After the base is infused in the cold, it should be removed, thoroughly mixed, divided into several portions and rolled into round layers. Alternately placing them in the pan, they need to be baked separately for 20 minutes.
Preparing all the cakes, they must be completely cooled, and then smooth the edges using a plate like a mold.
Formation process
Before the formation of such an unusual dessert, you should wash and peel all the fruits, and then cut them into thin slices.
Having prepared the ingredients, you should put one cake on the cake plate, smear it with cream, put pears, peaches and so on in an even layer, and then coat it again and repeat the procedure. As a result of such actions you have to rise pretty high cake. In conclusion, it should be completely smeared with the remnants of the cream and beautifully decorated with any fruit and berries.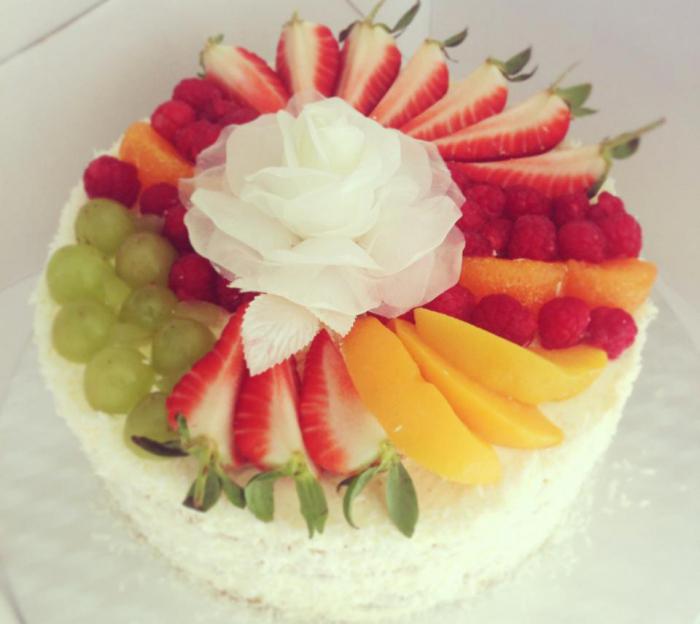 How to serve homemade dessert to the table?
After the fruit puff cake is ready, it must be kept in the refrigerator for 5-8 hours. This time should be enough so that the soft and crunchy cakes absorbed the cream and juice of fruits. In this form, the dessert is required to cut into triangular pieces and present to guests or friends along with a cup of tea. Enjoy your meal!
Related news
Cake Flight: cooking recipe image, picture, imagery