Cheese sauce is an addition to any dish.
Cheese sauce is an excellent way to serve a dish, if there is nothing special in the fridge right now. With this option, even the most ordinary products can be turned into heavenly food. As the basis of cheese sauce, the same components that are used in the preparation of the bechamel sauce: milk, flour, butter. You can compare different types of cheeses and introduce new ingredients, all this will help to get your own new taste. Special sauces and spiciness are distinguished by sauces with cheeses with mold. Cheese sauce can be prepared from both solid-type and processed cheese types. At the same time, garlic, mustard, mayonnaise, spices are added to the taste. Flour will act as a thickener. The sauce is perfect for meat, poultry, mushrooms, vegetables, pasta, sweet desserts.
Cooking flour to sauce
Cheese sauce, which recipe includes flour, will require its preliminary roasting in a dry frying pan. It is necessary to get a cream color.If you use roasted flour, you will most likely be able to get rid of lumps. Cheese before cooking should be grated or finely chopped with a knife.
Garlic sauce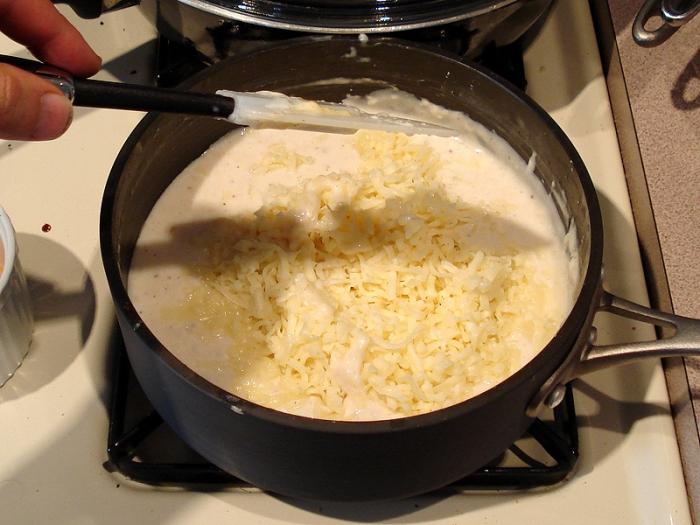 Cheese sauce for spaghetti with garlic can be described in a nutshell. It is tasty and healthy. For such sauces it is necessary to use only hard cheeses. The main thing is to choose a good quality product. Only in this case, the cheese will not roll up into lumps, but will melt. If you are not a fan of garlic, you can not add it. Now you do not have to figure out where to send a piece of cheese, which has already begun to dry up.
Ingredients
Per 100 grams of cheese will need a little garlic, 100 milliliters of high-fat cream (from 20 to 30%), salt, pepper.
Cooking method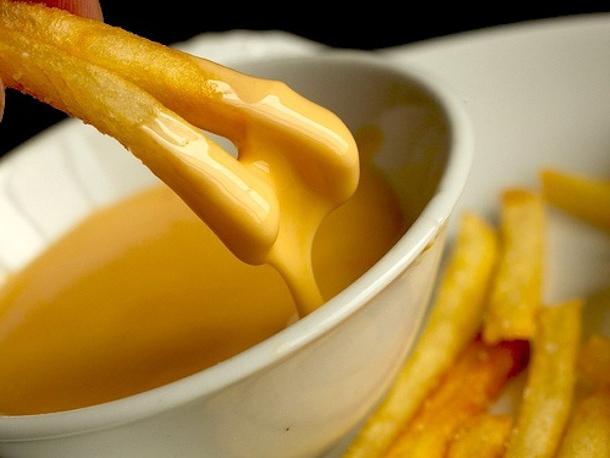 Cheese sauce is prepared as follows. Garlic and cheese should be grated and finely mixed. Then cream is poured into the mass and sent to the stove. Cooking sauce is best in a water bath, while not forgetting to constantly stir. Once the cheese is completely melted, it is necessary to salt and pepper the dish. Cheese sauce will perfectly complement the chicken.
Addition to chicken
For the preparation you will need a bird weighing one kilogram, ready-made cheese sauce, salt and pepper. The chicken is chopped in arbitrary sizes in slices and set to cook. The bird must be filled with cold water. At the same time it should cover the meat somewhere in the 1.5-2 centimeters. The chicken needs to be slightly pepper and salt, but not much, as the sauce will add some saltiness. Stew meat for about an hour, during which time it will have time to become soft. If only breasts are used, it will take even less, no more than forty minutes. Since there is little water, the broth will be nourishing. Next, cheese sauce is poured into the pan, which can be made somewhat thicker than usual, because the broth will be diluted. After ten minutes you can serve the dish.
Table setting
The sauce must always be served hot. In order to maintain its temperature, it is necessary to use a water bath. If the sauce is thicker than expected, you can use warm broth or milk to dilute it. When liquid is added to the sauce, it must be constantly stirred to maintain its uniformity.
Related news
Cheese sauce is an addition to any dish image, picture, imagery