Create a modern interior or how to arrange the furniture in the room
Creating a beautiful, unusual and interesting interior in a one-room apartment is quite a challenge even for an experienced designer. And if this room is also to the same long and narrow? Moreover, it is necessary to arrange all the furniture so that the room does not seem cluttered, was functional and solved all the tasks assigned to it: it was the living room, the bedroom, the dining room, and sometimes the office.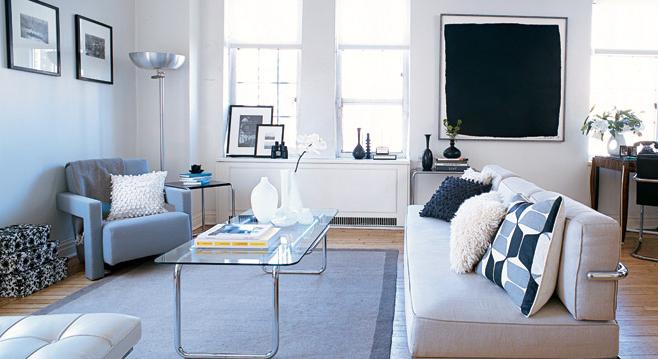 Make a plan
Most often, these issues are solvable. However, first of all it is necessary to draw up a layout plan in order to visualize how to arrange the furniture in the room. Many ignore this stage, and it is precisely the plan that will help to avoid many mistakes not only in the placement of furniture items, but also in their selection. Do not hesitate to go to the furniture salon with a tape measure, for sometimes even a few centimeters play a huge role.
Furniture placement rules
When thinking about how to arrange furniture in a room, you need to take into account a few simple rules:
• bulky pieces of furniture all the real and visual space of a small room is minimized;
• if the furniture for a small one-room apartment is only just being purchased, then it is better to buy functional furniture structures that have additional storage space and that will be mobile enough;
• when choosing a cabinet, preference is better to give a wardrobe. With sliding doors, with a multitude of compartments, tall furniture designs take up very little space, but can make life easier for owners of small apartments;
• in small rooms, furniture placement along walls is most preferable. When deciding how to arrange furniture in a narrow room, unload its center. This relaxation will create visual space.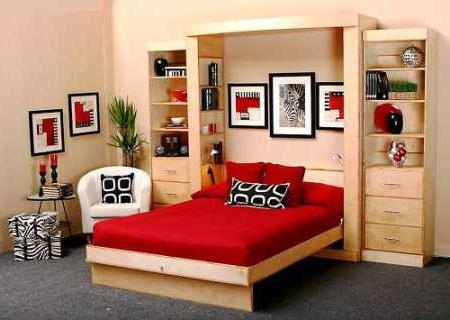 Some furniture placement ideas
If the apartment is narrow and long, the furniture, arranged along the walls, will turn the room into a kind of narrow corridor. This is unacceptable. How to arrange the furniture in a one-room apartment so that it is comfortable?
Idea # 1
It is worth making a room zoning.Since the apartment is small, it is better to allocate two zones: a recreation area and a working one. In the role of functional partitions can act as a table, perpendicular to the long wall. Such a reception will not only allow zoning the room, but also make the room shorter and wider. If you use a small and narrow sofa for zoning, you can turn your apartment into a bedroom and living room.
Idea number 2
When deciding how to arrange the furniture in the room, you must first decide on its color. Juicy and joyful tones are ideal for a narrow room. For example, an orange color will be suitable for the bedroom area, and the study or living room can be painted in a close, but calmer beige color or golden-beige, yellowish, cream.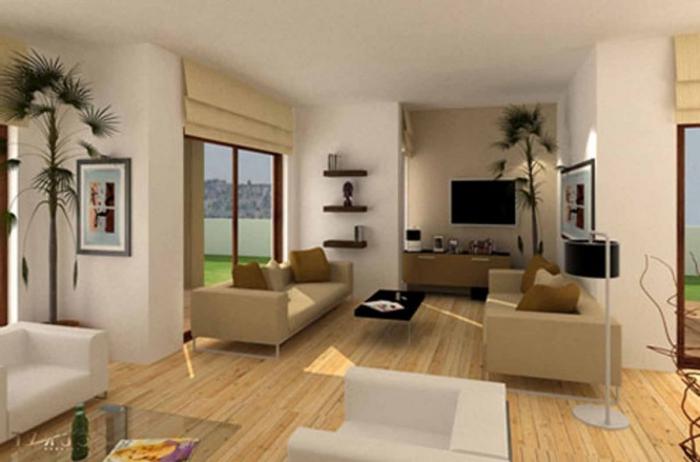 Idea number 3
The best option to hide things for a trailer room is to purchase cabinets or shelves under the ceiling. They will ensure the symmetry of the entire room and visually reduce the height of the ceilings. And the main furniture can be arranged along the short walls.
Idea number 4
A narrow room can be made shorter by a meter if you implement this kind of arrangement. U-shaped design, consisting of the most diverse, located at different height shelves and wooden shelving, in the form of a bridge can be positioned around the window and door.The room from this will not only be shorter, but completely transformed.
In general, there are many different ideas on how to arrange furniture in a room, and a skillful approach can turn a narrow room into a completely attractive and comfortable accommodation.
Related news
Create a modern interior or how to arrange the furniture in the room image, picture, imagery