Gnome costume for a boy with his own hands (photo)
What children's matinee passes without carnival costumes and fairy-tale characters? And especially memorable are the moments when the kid himself becomes a party to the holiday. The transformation of children into heroes of popular fairy tales begins in kindergarten, even then the caregivers distribute small roles to their wards and perplex parents with purchasing costumes and accessories for the upcoming event.
Boys are often dressed in the costume of a gnome, hare, bear or a brave musketeer. Preparing for the upcoming event is a very responsible task for both the leading actor and his mom and dad. Parents, of course, want to capture their son in a photo or video. After it will be carefully kept for many years, recalling the bright magical holiday of childhood. If your baby has the role of a gnome, you need to carefully prepare for it.
Fabulous costume
It would seem that finding a gnome costume for a boy is one of the simplest tasks; one has only to go to the store and buy it, or perhaps hire it in the salon.But in fact, everything is not so simple.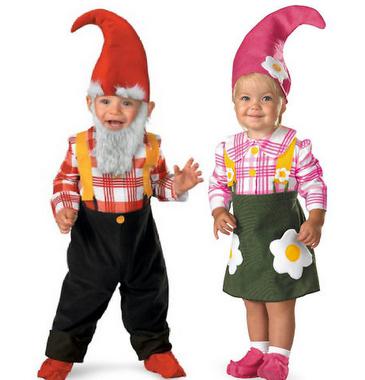 The choice of suits is really great - for every taste and color, but the price for such clothes will be, to put it mildly, "fabulous". It is not the best decision to buy an expensive gnome costume for a child, because he will put it on only once, and next year the costume will be small enough for him, the children will quickly grow.
You can, of course, try to choose a cheaper outfit, but often the appearance of such suits is depressing. The material for them is used of the lowest quality, they are stitched together somehow, and due to the screaming poisonous coloring and appearance they often resemble a character from a fairy tale very remotely.
Of course, everyone wants his child to stand out from the rest. But where is the guarantee that the parents of classmates will not buy their son exactly such an outfit? Perhaps that is why most moms have an idea about why not try to sew a gnome costume with their own hands. Is it difficult? Let's answer this question together.
How does the gnome dress?
The gnome is a gray-haired old man with a long beard who lives in a forest or mountain caves. The gnomes work mainly as miners - they mine underground treasures and carefully protect them from prying eyes. They are constantly at work, because of their special wealth of decoration is no different.A little old man is dressed simply and comfortably: a shirt with a waistcoat, short pants or shorts with suspenders, knee socks on the legs, and a wide belt with a beautiful buckle on the belt.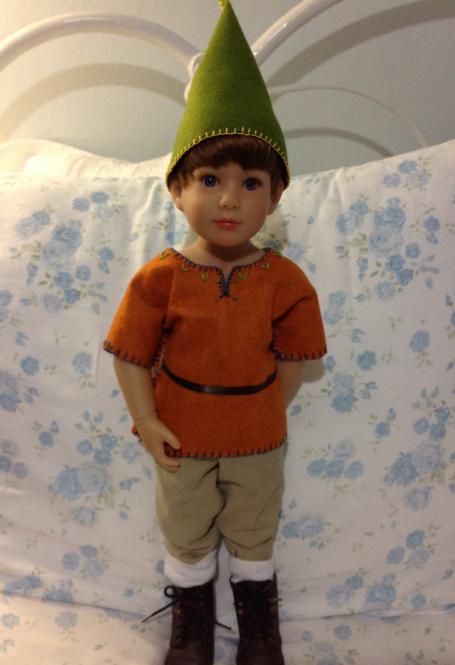 The main attributes of this gnome are a cap on his head and a gray-haired thick beard. Shod gnome too simple - ordinary leather shoes or shoes with curved socks to the top. As you can see, in the fairy tale hero's wardrobe there are no complicated elements, therefore it will be easy to sew a gnome's costume with your own hands.
What can you make a costume
Before you go shopping for fabric, review your wardrobe. Surely you have things that you do not wear, but their quality is quite acceptable. My son probably has clothes from which he grew up, he will only have to change a little, add - and you will have an excellent gnome suit.
The color scheme may be completely different, but usually gnomes prefer green, brown or yellow colors. The cap of the gnome is long, with a pompon on the end. In the hands of an old man can carry a hiking bundle with provisions tied to a long stick.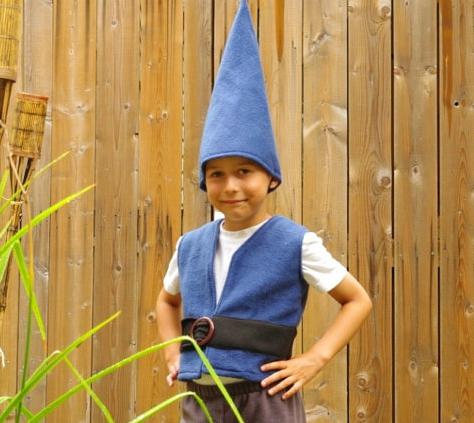 In our article you will find several different ideas on how to dress up a boy.Perhaps you will come across interesting ideas from our photos. A gnome's costume for a son can be easily made by any mother, even one who has never before encountered sewing.
Shirt and Golf
The shirt should be plain or just white. Golfik will have to buy, they are either white or with stripes. But if you decide to put the boy in long pants, they may not be needed, the usual socks are fine.
Vest and belt
The vest can be easily sewn from any thick fabric. Some special pattern you do not need. Take your boy's T-shirt, fold it in half lengthwise, attach it to a piece of paper, and outline the outline with a pencil. Sleeves you do not need. The costume of the gnome can be with a shortened vest or vice versa - with a long one. This will be girdled on top of the belt. The floors can be slightly rounded in front, your pattern is ready. Now it remains only to sew the details. If desired, you can decorate the edges of the waistcoat with pieces of faux fur or cotton wool braid.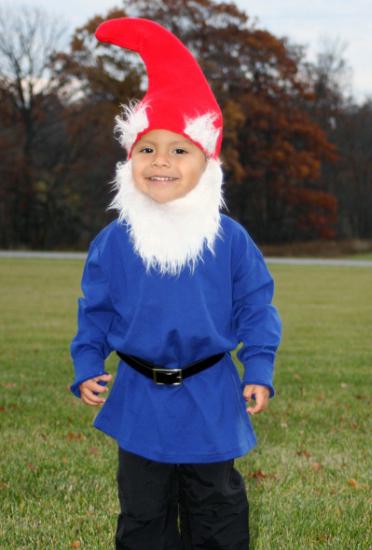 You can use an old leather belt from your wardrobe, cut it to size and make a beautiful buckle to it. It can be cut out of a dense piece of cardboard, wrap on top with foil or any cloth, decorate with beautiful stones or beads.Perhaps in your house there is a big beautiful brooch?
Pants or shorts
Perfect fit your child's pants, which have already become small to him. You can tuck them a little more from the bottom, and decorate the side with bows. Many gnomes have suspenders in their wardrobe; if you have them at home, feel free to use them for a costume.
Cap and Goatee
A gnome costume for a boy should have an important element - a cap. It can be easily stitched itself. Measure the circumference of the child's head and the desired cap length. Transfer to a fabric, cut and stitch. You can sew rubber - so the cap will be better kept on the head. Do not forget to make a pompom - it is an important element of the cap. If desired, you can decorate the cap with artificial fur or cotton.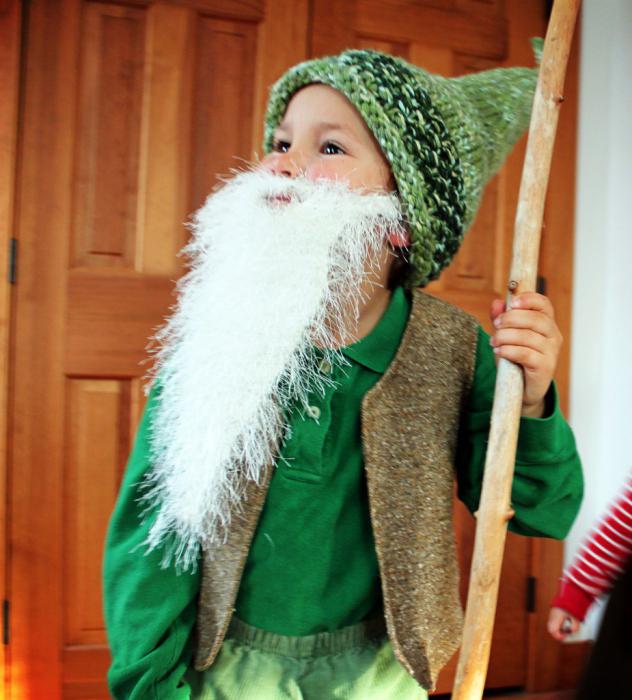 The beard can be made from cotton wool or knitted from white threads with beautiful air loops. Fasten on the rubber band or sew it to the cap.
Footwear
Use regular shoes that your child wears. They need only to decorate a beautiful buckle, the same shape as the belt. The trick is simple - cut it out of cardboard, paste over with foil and decorate.
If you put very little time, effort and ingenuity, then from your boy you get a great fairytale gnome.New Year's costume can be embroidered with Christmas rain, snowflakes and add some sparkles. Frost can slightly touch the nose and cheeks of the fairytale hero and leave a light blush on them (with the help of my mother's blush, of course).
As you can see, making a costume for a boy is not at all difficult for him and there will be no need for special expenses. This is another big plus - your outfit will be the only one, the author and the unique one of its kind. This will certainly be remembered by you and your child. Merry and fabulous holidays to you!
Related news
Gnome costume for a boy with his own hands (photo) image, picture, imagery