High temperature without symptoms - a reason for diagnostic search
There are not so many people in the world who, suspecting an increase in their body temperature, remain indifferent to this. The heat itself means that something has come into the body to cope with. And if in infectious and purulent diseases without such a reaction, recovery (despite treatment) is slower, then in some other diseases, the temperature can only deplete a person. In any case, the fever is a request for help from the body: you need to find the cause and eliminate it.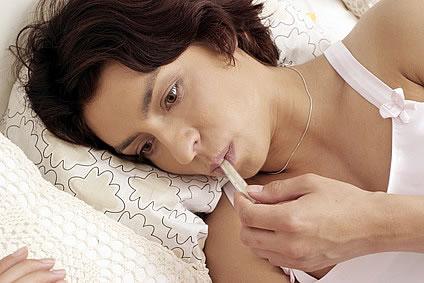 Why does fever appear without symptoms?
The appearance of heat can be caused by an acute and chronic process. Acute fever is one that lasts up to two to three weeks, chronic is one that exceeds this period. The reasons for these two types of fever are different.Also starting factors of temperature increase in adults, children and teenagers differ.
When is acute fever without symptoms?
1. In infectious and purulent diseases. It can be any viral, bacterial, fungal, rickettsial pathologies. If there are no symptoms at all (no cough, no rhinitis, no diarrhea, no vomiting, etc.), the character of the fever will help in the diagnosis at the first stage:
a) When the temperature during the day drops to normal numbers: it may be an abscess (accumulation of pus in any place is superficial, in some internal organs). Such a temperature curve can be in tuberculosis.
b) The temperature has a daily fluctuation rhythm (from the morning below), but it does not fall to normal numbers. This fever is not characteristic of any particular disease.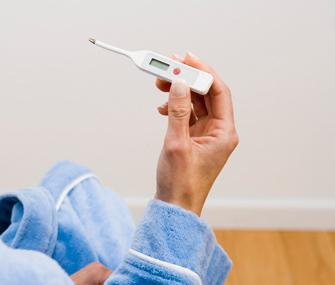 c) A high temperature without symptoms is observed during the day, especially not decreasing. This can be in typhus or typhoid fever, some other diseases.
d) Increase in body temperature to high numbers, with its subsequent decrease, which can be maintained even for several days. This may be when:
- malaria - after a stay in countries with a hot climate where there are mosquitoes;
- sodoku - after a rat bite;
- disease of the bile ducts - Charcot's disease;
- urinary tract infections.
2. Mechanical injury: bruise, crush injury, fracture. Even splinters can cause a rise in body temperature.
3. Neoplasms, especially malignant. In this case, the temperature without cold symptoms (and any other symptoms) may be the first sign of a tumor of any organ.
4. Some endocrine diseases: thyrotoxicosis, goiter, porphyria.
5. Acute destruction of red blood cells (hemolysis) due to various reasons.
6. Lung infarction, myocardial infarction can also cause fever.
7. Diseases of the blood, including leukemia (it begins with the appearance of a high temperature without other symptoms), lymphoma (it is characterized by fever with a decrease in temperature to normal numbers during the day).
8. Systemic diseases: lupus systemic red, scleroderma, rheumatoid arthritis.
9. Mental disorders.
Why can a teenager's temperature rise sharply?
Fever without symptoms cantestify about bacterial endocarditis (formation of bacterial deposits on the heart valves - this is usually combined with addiction, but can occur without it), leukemia, hemolytic crisis, use of some kind of "medicine" for weight loss or building muscle.
Why can the temperature of an early age child rise sharply?
High temperature without symptoms most often has an infectious origin (ARI, meningitis, sore throat, intestinal infection, appendicitis, otitis, and others). But it may be the first sign of heart disease, blood diseases, allergies. It may also be a "scary" increase in temperature during teething, after vaccination, with prolonged crying in response to a psychogenic factor.
What to do when the temperature rises without symptoms?
Examined by a general practitioner (or pediatrician). Sometimes what you do not consider to be a symptom of the disease is. Many serious diseases (such as leukemia, hemolysis, or kidney disease) can be detected by a routine blood or urine test. If necessary, you will be prescribed ultrasound, x-rays, blood cultures, urine and sputum for different environments.It is not necessary to "heal" the disease with antipyretic - this is how you interfere with your body's fight, and confuse doctors.
Related news
High temperature without symptoms - a reason for diagnostic search image, picture, imagery