How to knit elongated crochet loops: several options
Many needlewomen love to knit not only knitting, but also crochet. This convenient device can make beautiful original things: blouses, dresses, hats, scarves, stoles, various accessories for clothes, handbags and so on. Crochet can create such amazing patterns that will appeal to any fashionista.
The only condition is to be able to pick the right hook and thread. A thread of a certain size will fit a particular hook.
A popular way to knit elongated loops
There are a lot of ways and patterns of crochet. Very interesting things are obtained when knitting elongated loops. This type of loops is suitable for knitting of a border, fur and a fringe on cuffs, collars, hats. They can also be used for knitting openwork linen and various lace motifs. The use of elongated loops will decorate any knitted product.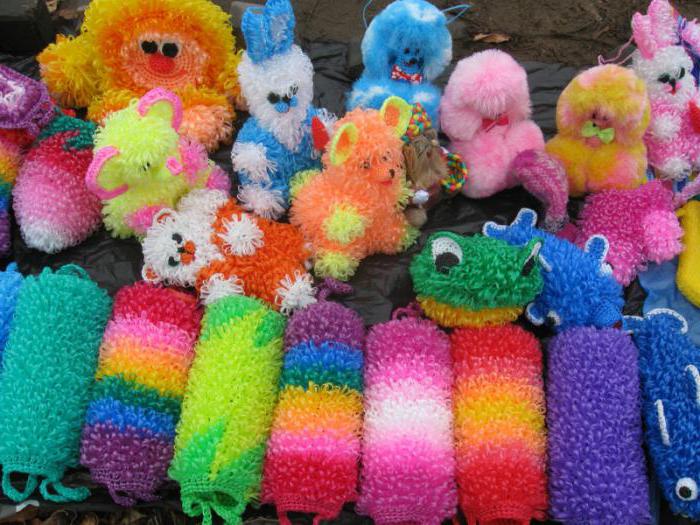 Unusually look related toys from elongated loops. They weave the manes of a horse, a lion, hedgehog needles, dolls' hair. It turns out very beautiful, soft product, which is very popular with children.
How to knit elongated crochet loops
Let us turn to practical advice. There are a lot of descriptions of how to knit elongated crochet loops on the Internet and in books. For example, knitting fur. Work must be done carefully, exactly according to the scheme.
It is necessary to dial the number of loops specified in the diagram on the hook, then tie one row with a single crochet column. Next row: one column without crochet, put a thread on the finger, forming a new loop. It must be pulled to the required length. Then the hook is inserted into the loop of the last row, the working thread is captured and tied. If necessary, the rows can be continued, alternating them.
How to draw crochet loops - every craftswoman has her own way. To extend the looped were the same size, you can use a pencil or a ruler. Then, the resulting elongated loops can be cut in half. Then the fur will turn out even more magnificent.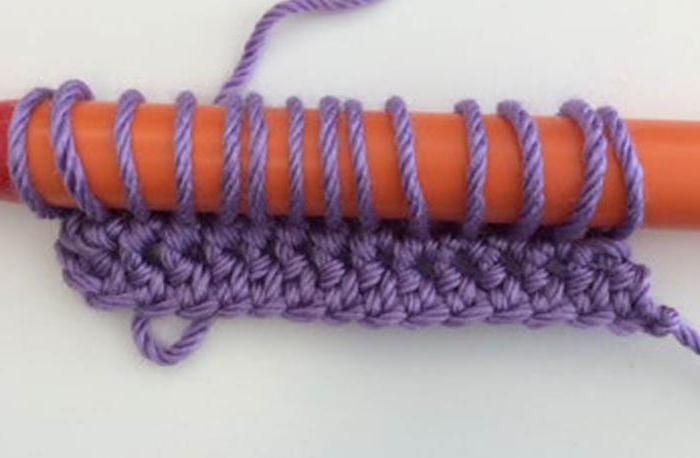 Interesting articles, which tells how to knit elongated crochet loops with fastening in the bottom rows. In this case, the hook is inserted into the loop, which is several rows below.It turns out imitation embroidery satin.
A variety of products from extruded loops
Very beautiful is obtained openwork knitting from elongated loops. By crossing the loops, passes and other techniques, you can create various laces and openwork.
You can also make pompons for children's hats from elongated loops, you can knit mats. Some needlewomen knit a convenient home washcloth for their own use or for sale. These washcloths are in great demand, as they are very soft and with a massage effect. Connected from multi-colored polypropylene threads, they will not leave indifferent any child.
It is not difficult to knit a washcloth: one row - a column without a nakida, one row - elongated loops. But polypropylene is a capricious material, so you should choose a hook with a rounded tip.
When knitting, it is imperative that the following conditions be met: the pattern of elongated loops with a hook must be observed exactly, the thickness of the thread must match the thickness of the hook. And the most important condition: do not quit started half way, finish the product so that it pleases with its beauty.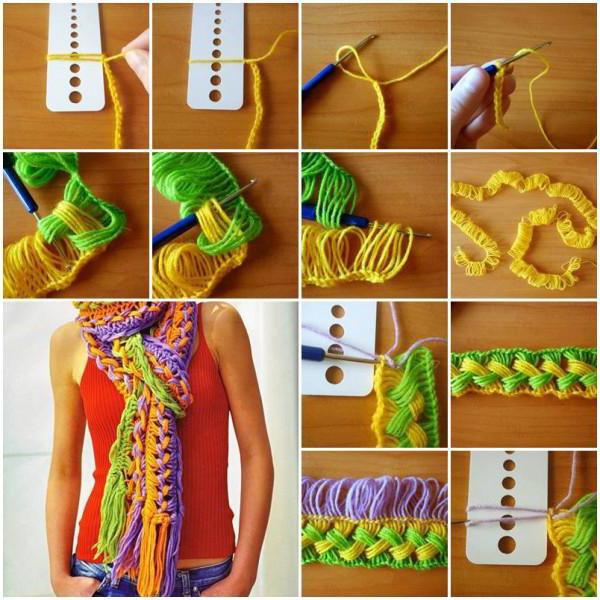 Having learned how to knit crocheted elongated loops, you can make amazing decorations for your home interior.
Related news
How to knit elongated crochet loops: several options image, picture, imagery