Kids Christmas cards do it yourself
remained among those holidays for which it is customary to exchange gifts and greeting cards. It is especially nice to receive a postcard made by the hands of a child. For the little creators themselves, this is an opportunity to realize their creative potential, to develop all the senses, fine motor skills and even social skills. Parents who encourage co-creation can spend time with their babies in an interesting occupation. In general, the benefits of creating do-it-yourself cards, handicrafts and appliqués are beyond doubt. Moreover, there is a reason - the upcoming New Year holidays.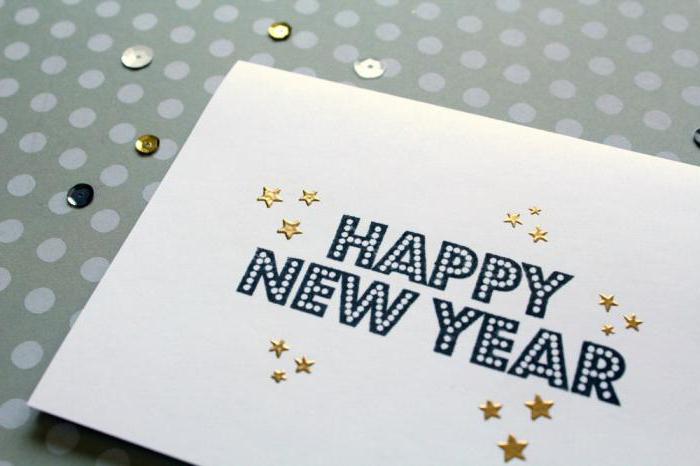 Origami Santa Claus for New Year Card
There are several ways to make Santa Claus (or Santa Claus - whoever you like) for a New Year's card in kindergarten with your own hands. To do this, you need an even square of unilateral red colored paper. First you need to fold the square diagonally in both directions to outline the main bend lines.Next, put a corner down so that the red color is at the bottom, and alternately bend both sides to the center line.
The resulting part must be bent in half (bend a sharp angle up to the straight) and turn the other side up. Now the right angle needs to be bent over, once again bent, but now not so much anymore - in order to form a narrow strip over the triangle - the fur on the Santa Claus-Santa cap. The last step is to bend the right and left edges of the workpiece beyond the main triangle. Now, on the white triangle on the front of the part, it remains only to draw the face of the protagonist of the New Year's party. Such Santa Claus can be stuck on any children's Christmas card.
Card "Snowman" from paper circles
New Year's card in kindergarten can be with another character characteristic of the Christmas holidays. There are several ways to make a gift card with a snowman. The easiest for kids. You just need to cut three circles out of white paper and stick them on a cardboard base. It remains only to finish the nose of a snowman, buttons, pens and a bucket on his head.With the help of mom, older preschool children can sign the cards in block letters.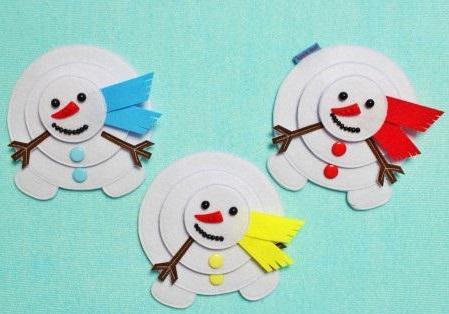 The options are a bit more complicated, but much more interesting - for example, a cotton snowman or a postcard - "top view". The children's New Year's card described above (just three white paper mugs pasted on a cardboard base) can be diversified using cotton wool. Have your child tear the cotton-snow into small pieces, cover the body of the snowman with a thin layer of glue with a brush or fingers and "powder" it with such improvised snow flakes.
Another New Year's card in kindergarten is "top view" on a snowman. The kid will surely enjoy such an unusual approach after the usual three circles - snowballs. Here, too, you need to cut three circles from white paper or cardboard, but they must be of different sizes: small, medium and large. In size, be guided by what will be the finished card. The largest circle should be placed on the base, without going beyond.
Once the circles are cut, you can begin to collect a snowman. First glue the largest "snowball" onto the base, then the middle one, and then the small one.Layers can be glued not on ordinary glue, but on a piece of thick double-sided tape, so you can achieve the effect of volume. Between the middle and small circle can additionally make a circle-scarf for a snowman, and between the large and medium ones, do not forget to glue the twig handles. On the middle circle, draw a few buttons with a black marker, and on a small one, glue black eyes and a carrot nose. This Christmas card (photo of one of the children's works above) looks quite original and unusual.
Cards with potato print
Potato stamps are quick and easy, and still very interesting, because unusual things (children's Christmas cards, designer textiles or original gift wrapping) can be created right in the kitchen and from such ordinary material that seems to be nothing interesting. for creativity. Potatoes enough to cut into rectangles, squares, triangles or quarters, take the paint and turn on the fantasy.
For a New Year's card in kindergarten, with your own hands, take an ordinary potato, wash it and cut it in half.The root crop is better to take a rounded, regular shape, large enough, but such that the imprint fits on the cardboard basis of the holiday card. It will also require white or black paint. Make white prints on two cardboard boxes, and another one on black. "Art" these products need to begin to give only after the paint dries well.
Now, on one postcard with a white print, draw the eyes, the nose-carrot, the twig-handles to make a plump snowman. On another card with a white print (brown paint for the stamp will also work) you can make a deer. It is necessary to finish the shapeless speck of the legs and horns with a black marker, eyes and nose.
The third card - with a black imprint - it will be a penguin. When the black is dry, make a second impression on top, this time white, but use a smaller potato. Then you can offer your child to add the penguin of the foot and the beak with a fingerprint dipped in orange paint. So, three whole original and very simple children's crafts are ready - New Year postcards.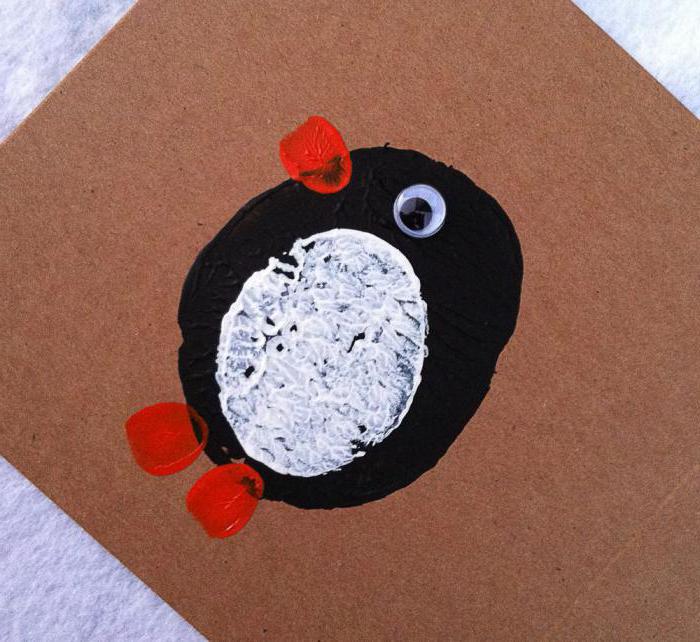 Warm and cozy northern bear in a sweater
Those who are tired of snowmen,penguins and other more or less traditional characters, you can offer to make the main character of the greeting card a cute northern bear. It is enough to cut a bear out of white paper (for example, such as in the picture below) and decorate it with a colorful scarf or sweater. Draw patterns on your sweater with a marker or pen. An outstanding artistic talent is not required - it is enough to paint a sweater with bears with simple patterns (for example, triangles, stripes, primitive Christmas trees or snowflakes, arches, dots, in short, all those pictures that we draw while talking on the phone).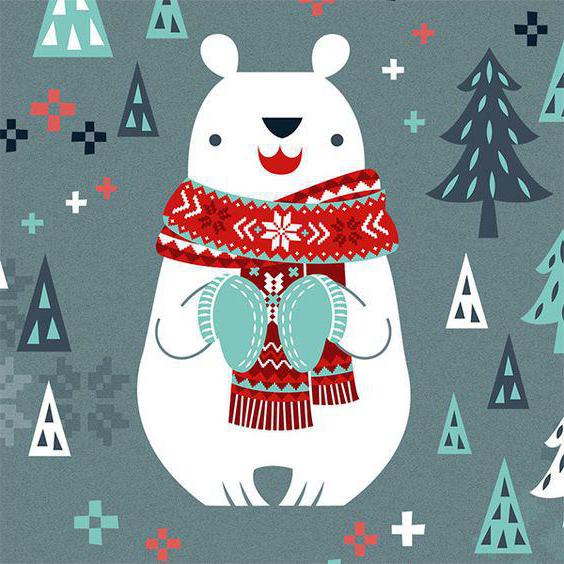 Christmas application "Fir-tree" from strips of paper
A children's Christmas card in the appliqué technique is an opportunity not only to create a beautiful greeting card that a baby can give to grandparents or to be sent to kindergarten for a competition, but also to develop assiduity, independence, accuracy and patience. In addition, the application has a positive effect on the fine motor skills of the child.
So, to make a New Year's card in kindergarten (photo of the finished crafts below), you need colored paper of several colors, white or any other color cardboard for the base, scissors.Any child who already knows how to use scissors will be able to make a beautiful thing (of course, under the supervision of a mother or another adult). Have your child cut a few strips of colored paper. They can be both the same color and different. You can also use wrapping paper or paper with New Year prints (pictures need to be printed in advance on a color printer). Paper strips can be easily replaced with colored tape or tape. Postcards are very beautiful, New Year's.
There is a more difficult option - a Christmas tree made of paper tubes. Such a Christmas tree will turn out to be voluminous, it can be decorated with multi-colored buttons, and the trunk can be made of real twigs.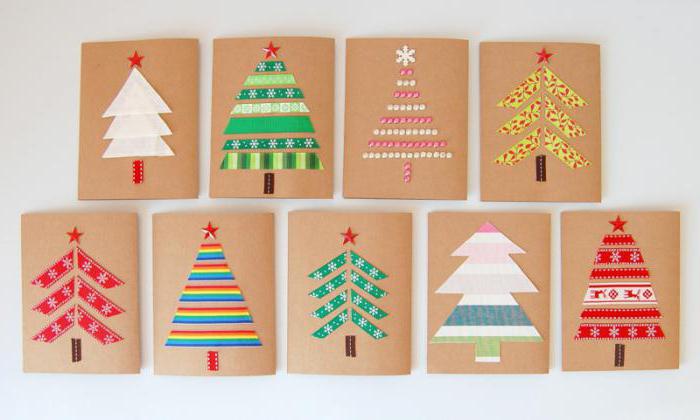 Simple ways to make a volumetric Christmas tree for a card
The voluminous children's Christmas cards look very interesting. It's easy to make such beauty with your own hands. You will need three sheets of green paper, from which you need to cut the squares: small, medium and large. Each square must first be folded in half horizontally and vertically to determine the middle lines. Then the same, but diagonally. After each sheet you need to lay down in the form of a pyramid and glue together a Christmas tree, alternately inserting into each other.Now it remains only to glue the handsome New Year to the base, and the greeting card is ready.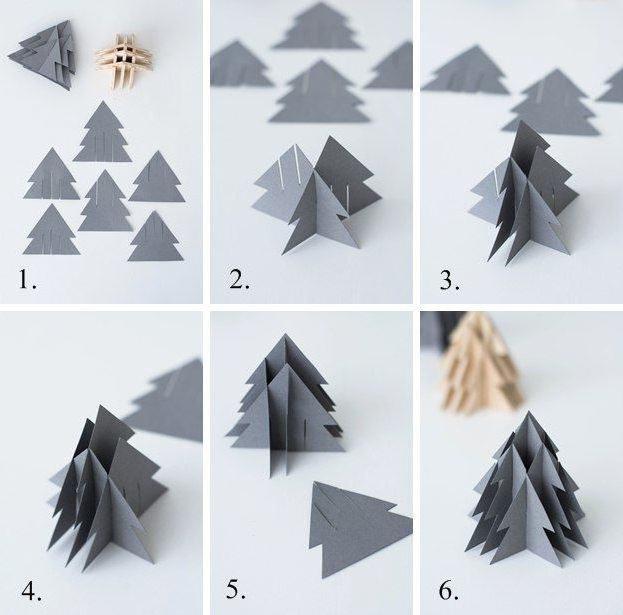 Postcards with fingerprints or palms
The smallest children can be offered to make children's Christmas cards with their own hands in the literal sense of the word. Finger drawing is suitable for kids 1-2 years old, and even older guys are unlikely to give up this method of creating crafts. Fingerprints can make cute deer. You just need to dip your finger in the paint and finish the rest when everything is dry. An example (photo) of children's Christmas cards with their own hands are presented.
New Year cards in the technique of "quilling"
Quilling is a lesson for older children. In this technique, you can make and snowflakes, and Christmas trees, and a snowman. It all depends on imagination. You can even put the inscription "Happy New Year!", But it will be difficult. Postcards are very unusual, but for their production it is definitely worth buying special tools and paper, as with the usual nothing happens.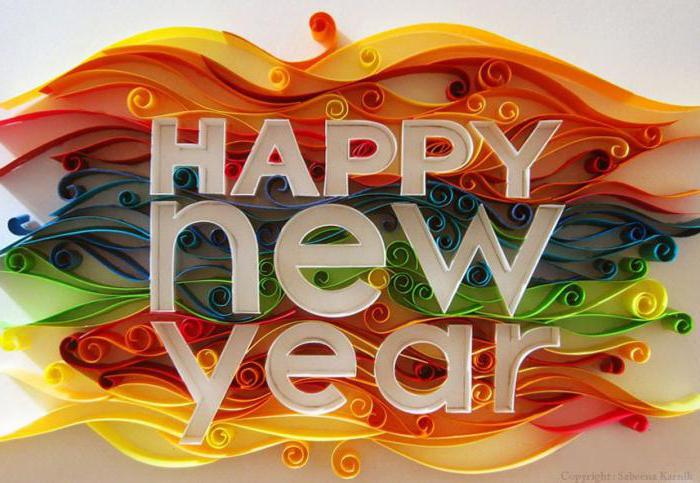 Contrast textile appliqué card
Another interesting idea is textile application.You need to bend a sheet of paper or cardboard in half, like a postcard or notebook. On the inside you need to stick a bright colored fabric, and on the front side cut the silhouette, for example, a Christmas tree, a snowman or several Christmas balls. When you "close" the postcard, a bright fabric will be visible in the hole.
Related news
Kids Christmas cards do it yourself image, picture, imagery