Portrait of his wife: Russian muses by European artists
On August 26, 1894, Elena Dmitrievna Dyakonova was born in Kazan, who in the future became the famous Gala, wife and source of inspiration for the great Salvador Dali.
Let us remember who inspired Dali, Matisse and Picasso? Olga, Elena and Lydia. Let's look at the portraits of amazing Russian women, who for many years have been companions of the greatest artists of the twentieth century.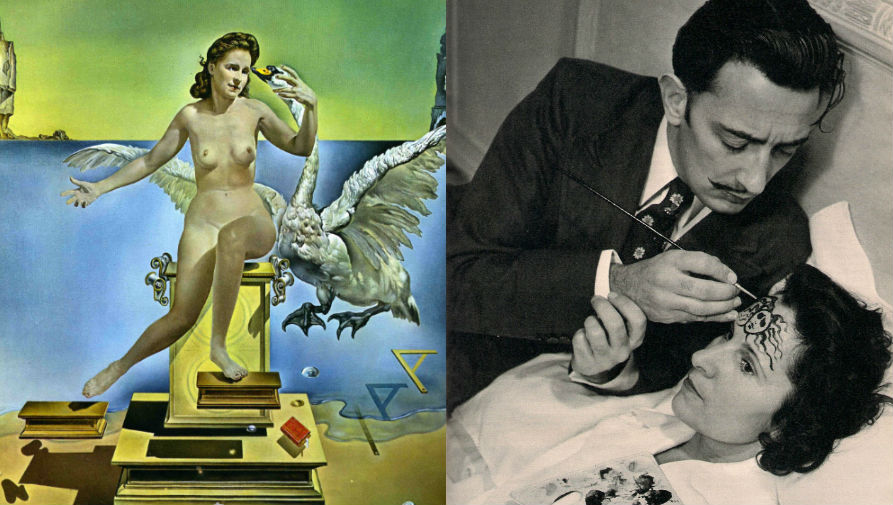 Source: Kultura.RF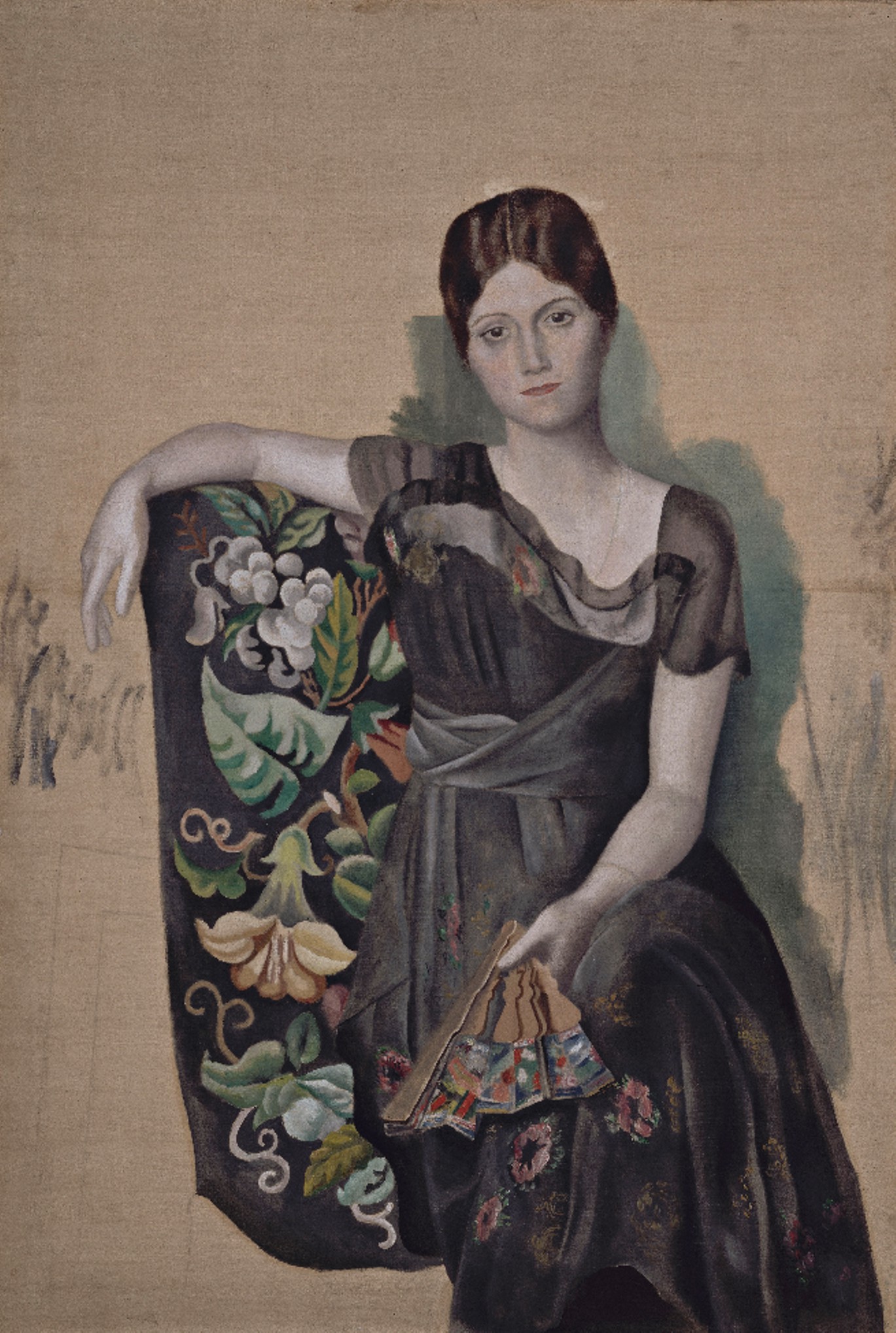 Pablo Picasso. Portrait of Olga in the chair. 1917. Picasso Museum, Paris, France.
The Muse of Legal Marriage
"Portrait of Olga in the chair" Picasso wrote at the very beginning of their acquaintance. Fragile, graceful, closed, melancholic - such was Olga Stepanovna Khokhlova, a ballerina of the legendary troupe Sergey Dyagilev. She fascinated Picasso so much that for her, the 37-year-old abstract artist temporarily changed his style and returned to realism. After all, she asked him: "I want to recognize my face in the portraits ..." And she came out recognizable - and in other portraits, and on this - perhaps the most famous.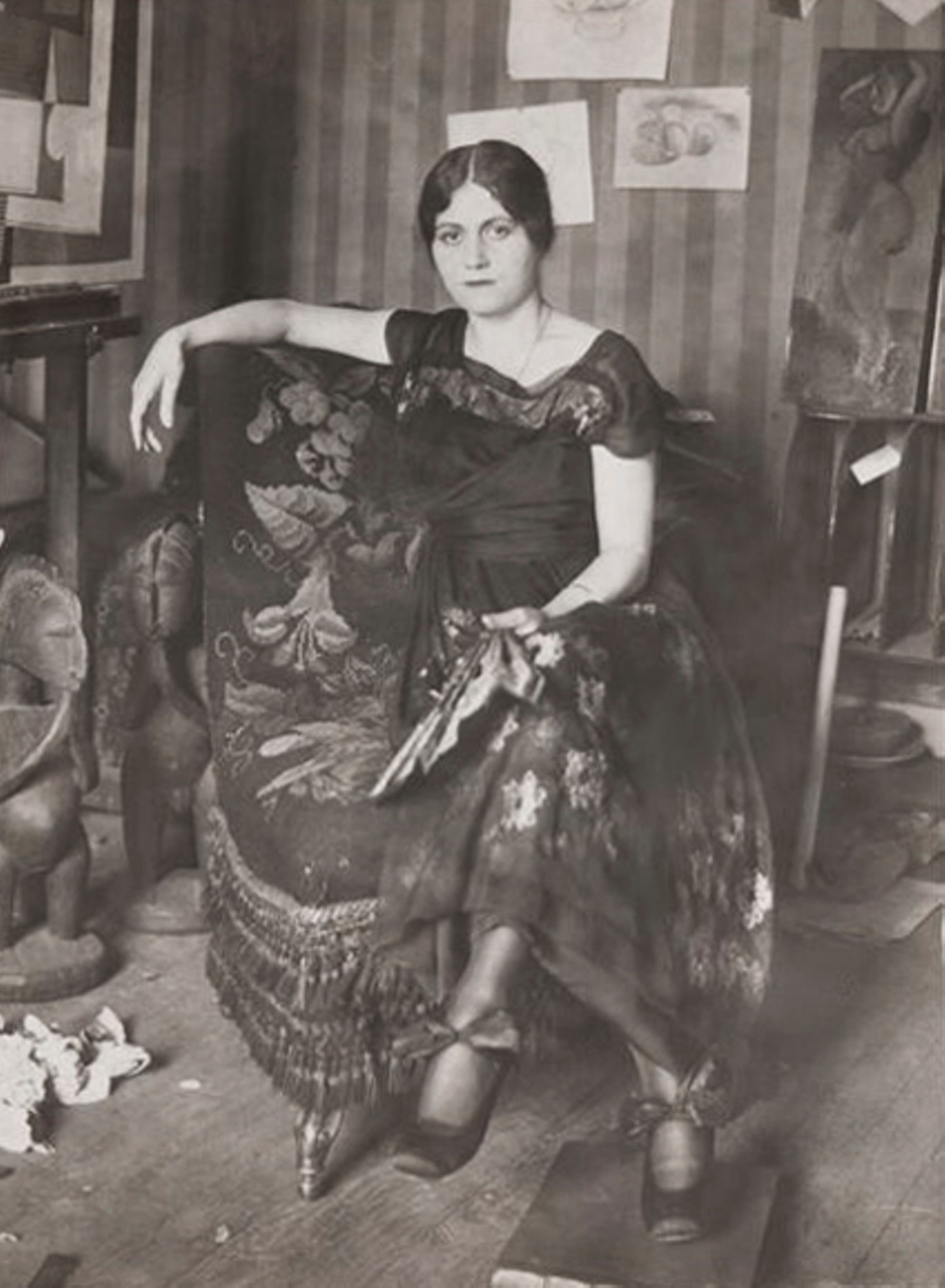 Olga Khokhlova in the chair. Around 1917.
The picture is based on Olga's photograph in the Picasso workshop, so we have a rare opportunity to compare how an artist in love saw her and how an impartial camera saw her. In all the portraits of the early years of their marriage, Olga is the same as in this one, seen through the prism of love — thoughtful, airy, perfect. This "Russian soul".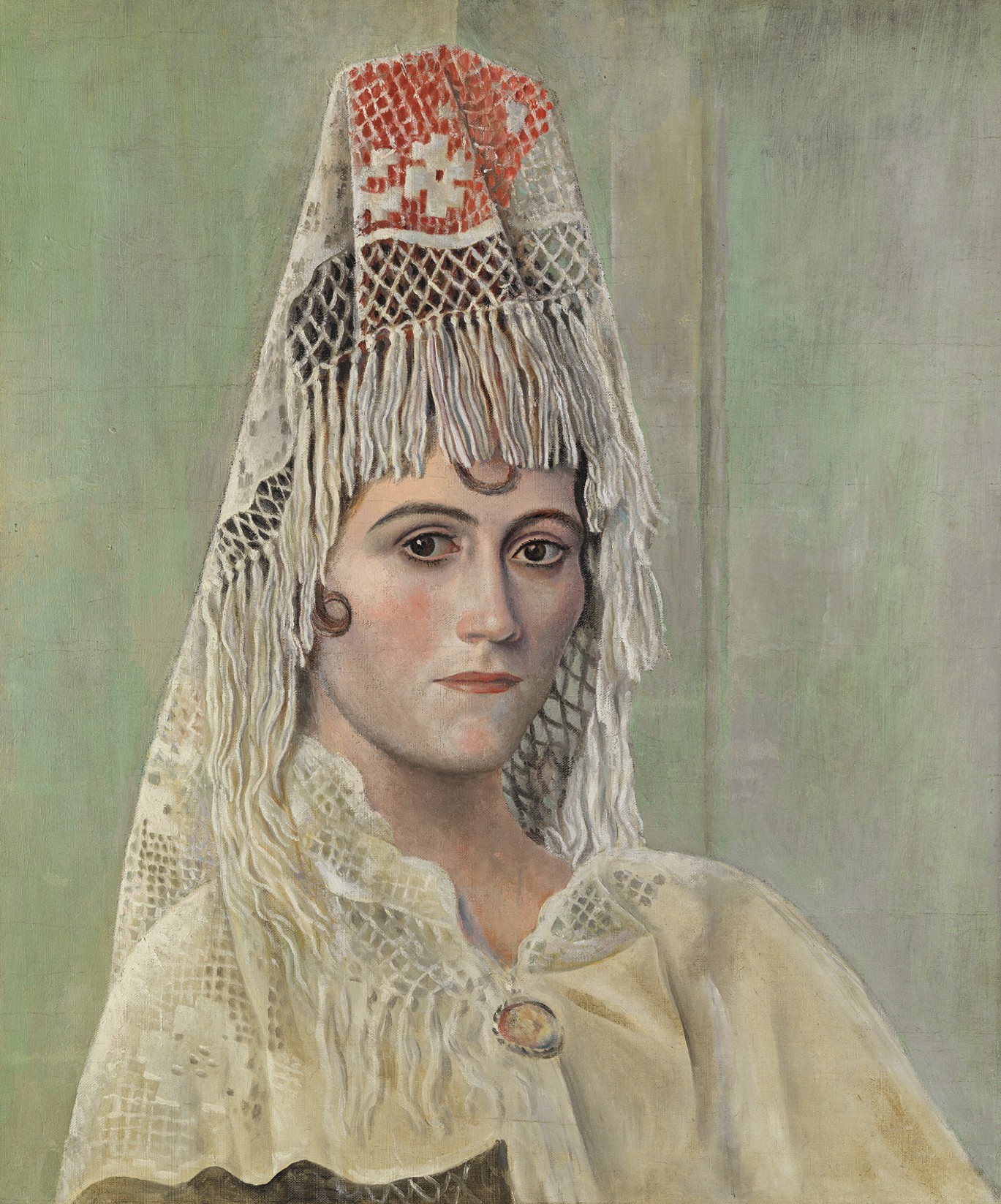 Pablo Picasso. Portrait of Olga Khokhlova in the mantilla. 1917. Picasso Museum, Malaga, Spain.
However, can a genius be content with a single muse? Picasso lasted for a full ten years. The further, the more his wife annoyed him. And here - no tenderness, the artist writes Olga either as an old woman, or as a horse (in a series of paintings devoted to bullfighting). Or draws her in the very abstract style that Olga did not like so much. Picasso has a new hobby, and in the end Olga will not stand it and will leave. He will not give her a divorce - so as not to divide the pictures. Until her death, she will remain the official wife of Picasso. But the muse will cease to be.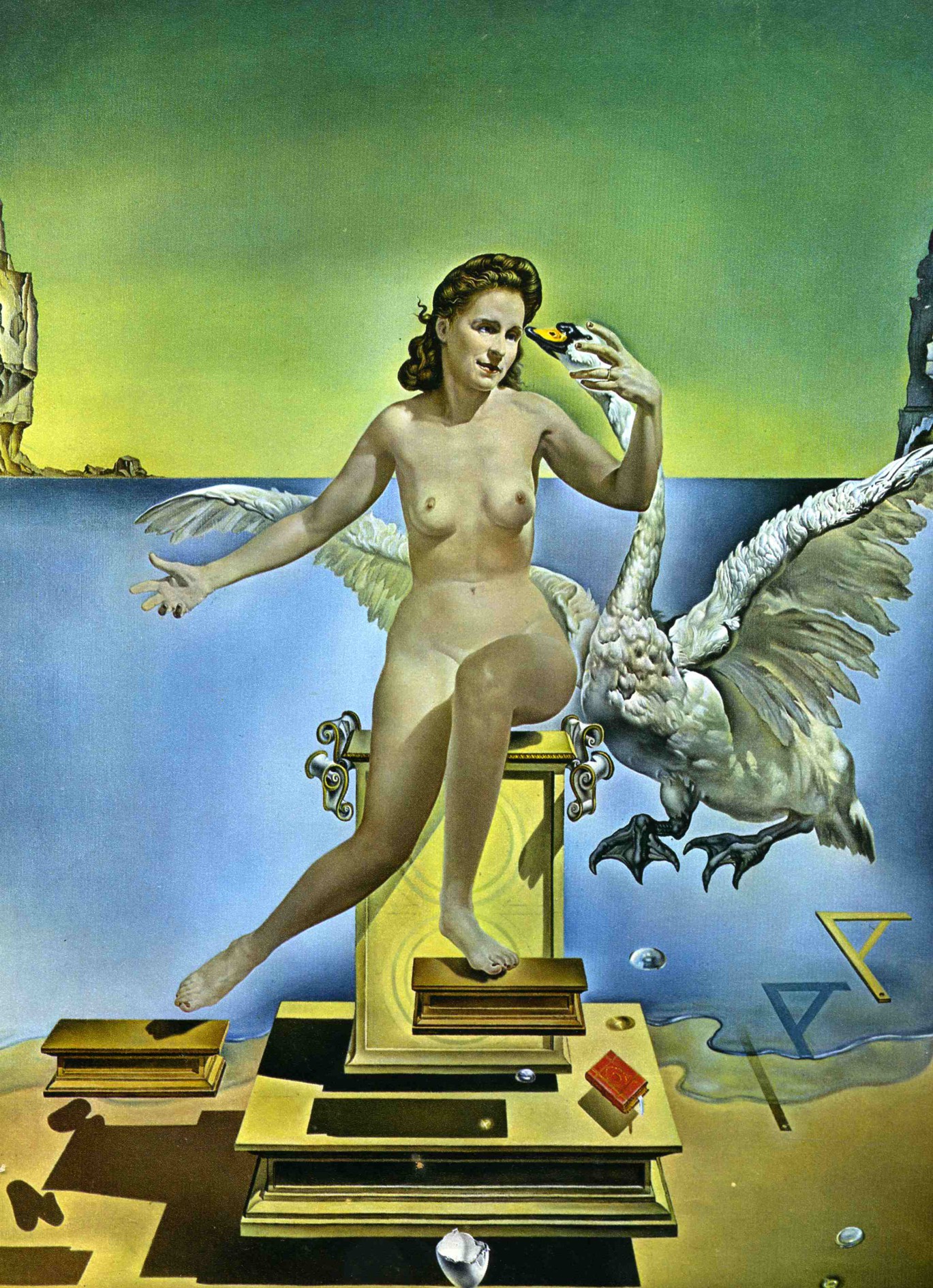 Salvador Dali. Atomic Leda. 1949. Theater-Museum Dali, Figueras, Spain.
Muse of the inner world
"Atomic Leda" - one of the most popular works of Dali - was written several years after the atomic bombing of Japan.But for the great surrealist, what is happening in the real world is just a reason to talk about what was happening in his inner world. And there his wife reigned, his majestic Gala. In the canvas, she becomes a new Leda, and Dali himself becomes Jupiter, a swan hovering nearby and almost not touching her beloved. "The sublime experience of libido" - this is how the image will explain the artist. Perhaps their relationship can be described as well.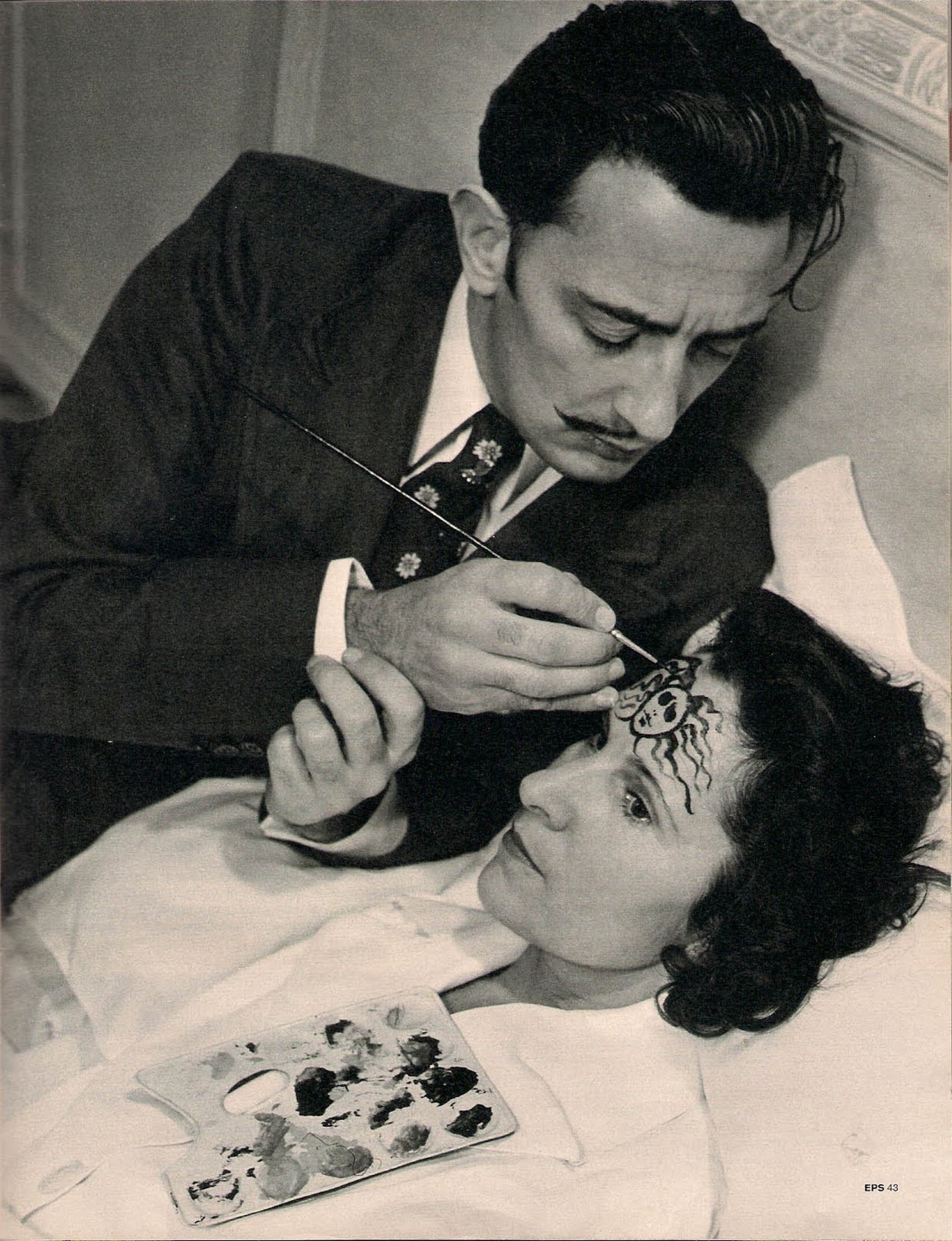 Salvador Dali and Gala.
Gala - a nickname that translates as "holiday". And its owner was a real firework for her men. Before meeting with Daly, I managed to be the muse of the French poet Paul Eluard (and even marry him) and the German artist Max Ernst. But she did not hesitate to leave everyone behind for Dali, who at that time was ten years younger and still not very famous. And he obeyed her with enthusiasm.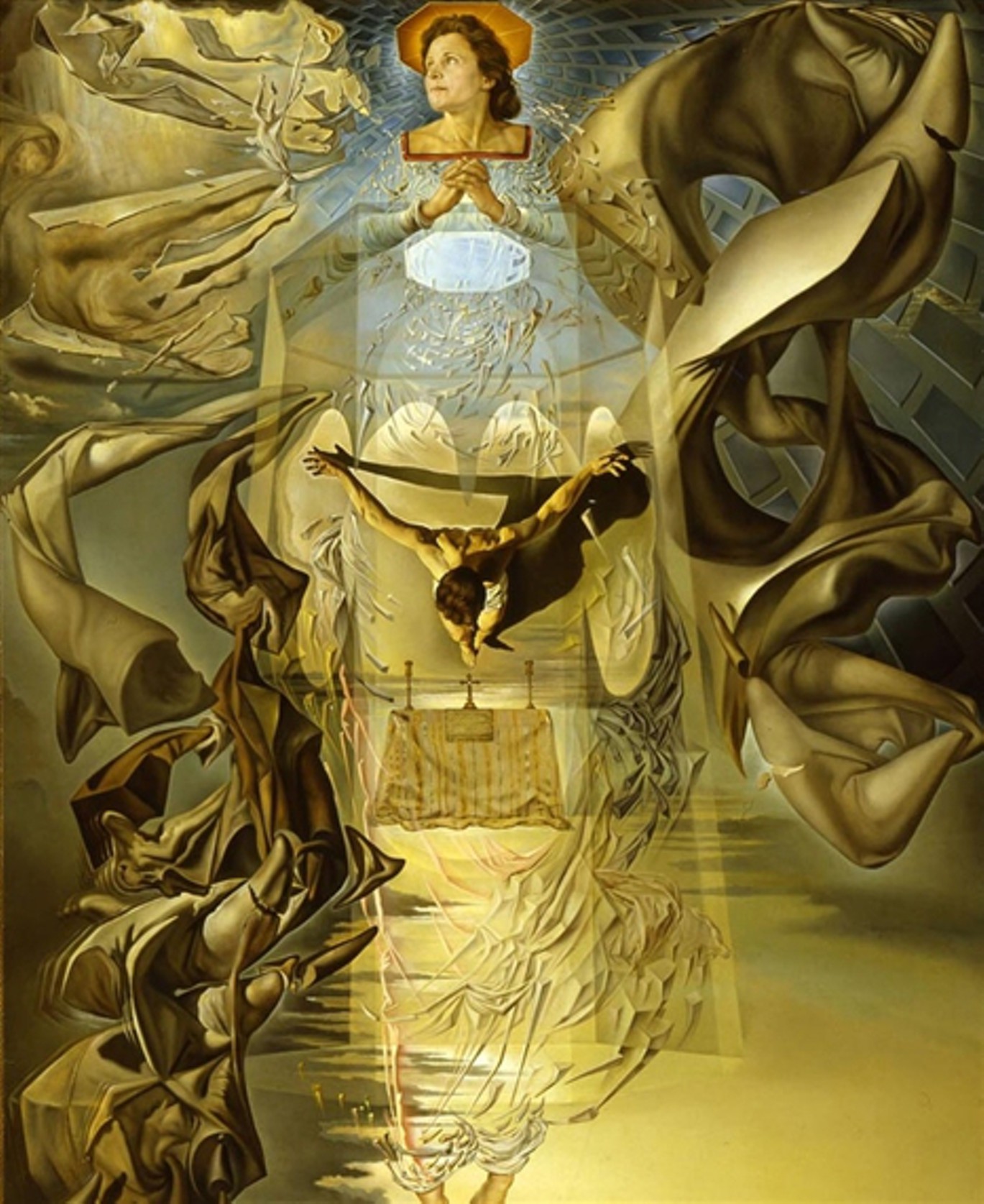 Salvador Dali "Corpuscular Azure Ascension of the Madonna", 1952.
Gala will be for Dali wife, secretary, manager and even a nurse, in a word, everything. But, most importantly, she will become his muse. And if the artist in the picture we see a female image, you can almost be sure that it is her.It's amazing: no matter how crazy the world around it is, it itself is almost always written realistically. It can be poetic to assume that Gala was the only real reality of Salvador Dali.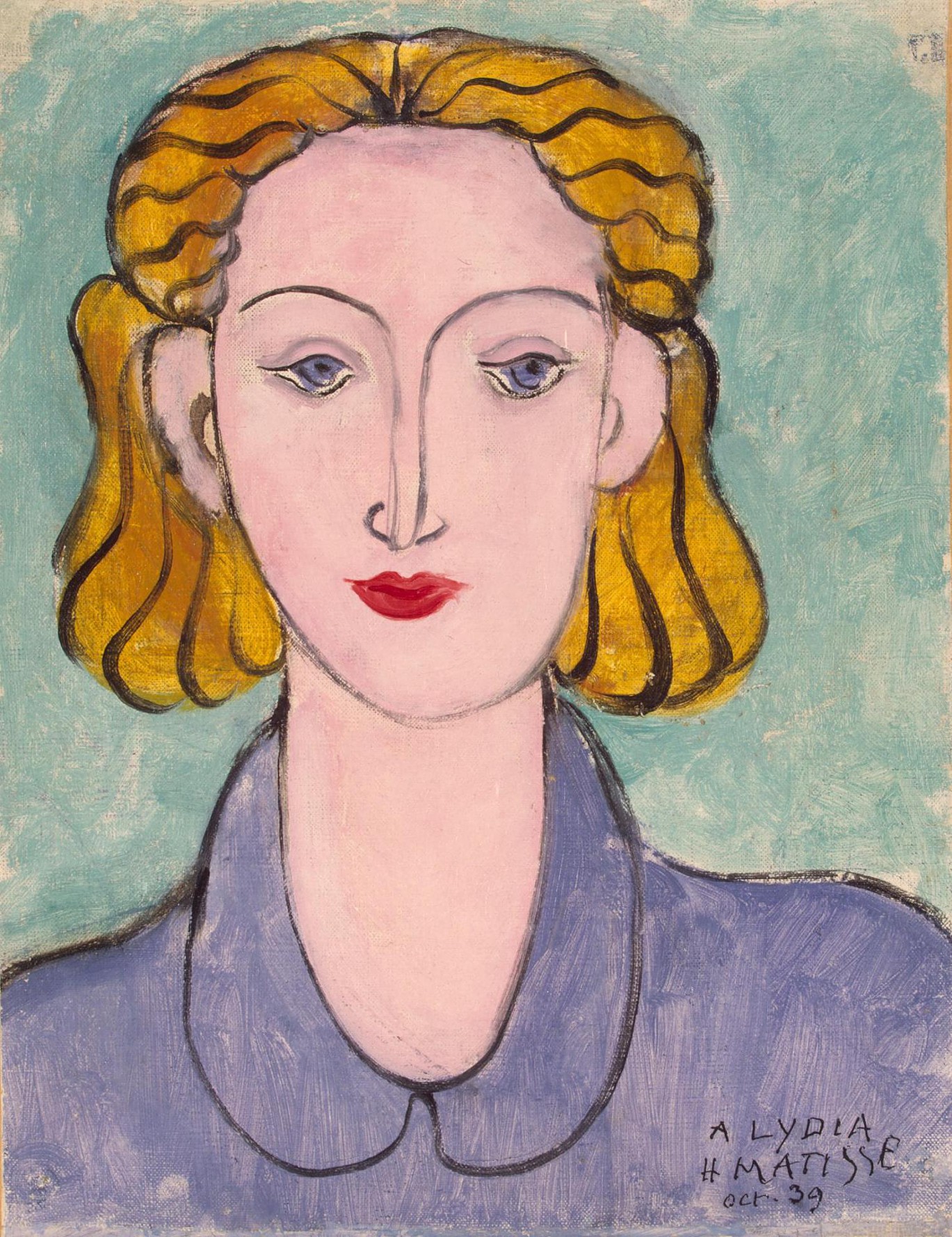 Henri Matisse. A girl in a blue blouse (Portrait of Lydia Delektorskaya). 1939. The State Hermitage Museum.
Muse of happy old age
Portraits of Lydia Delektorskaya so many that it is difficult to choose the most famous. Matisse himself confessed: "When I'm bored, I make a portrait of Madame Lydia. I know her like some kind of letter. " For example, a portrait of 1939, written at the very beginning of the Second World War. Golden hair, blue blouse (judging by other canvases, the artist loved to write it in blue). A calm, inspired young face, on which not the lips, but the eyes smile. It was this portrait that Lydia herself once brought to the Soviet Union and gave to the Hermitage. The picture of 1947, also presented to the Hermitage, is at first glance more abstract, the lines of the face are simplified - but the girl's pretty face remains recognizable.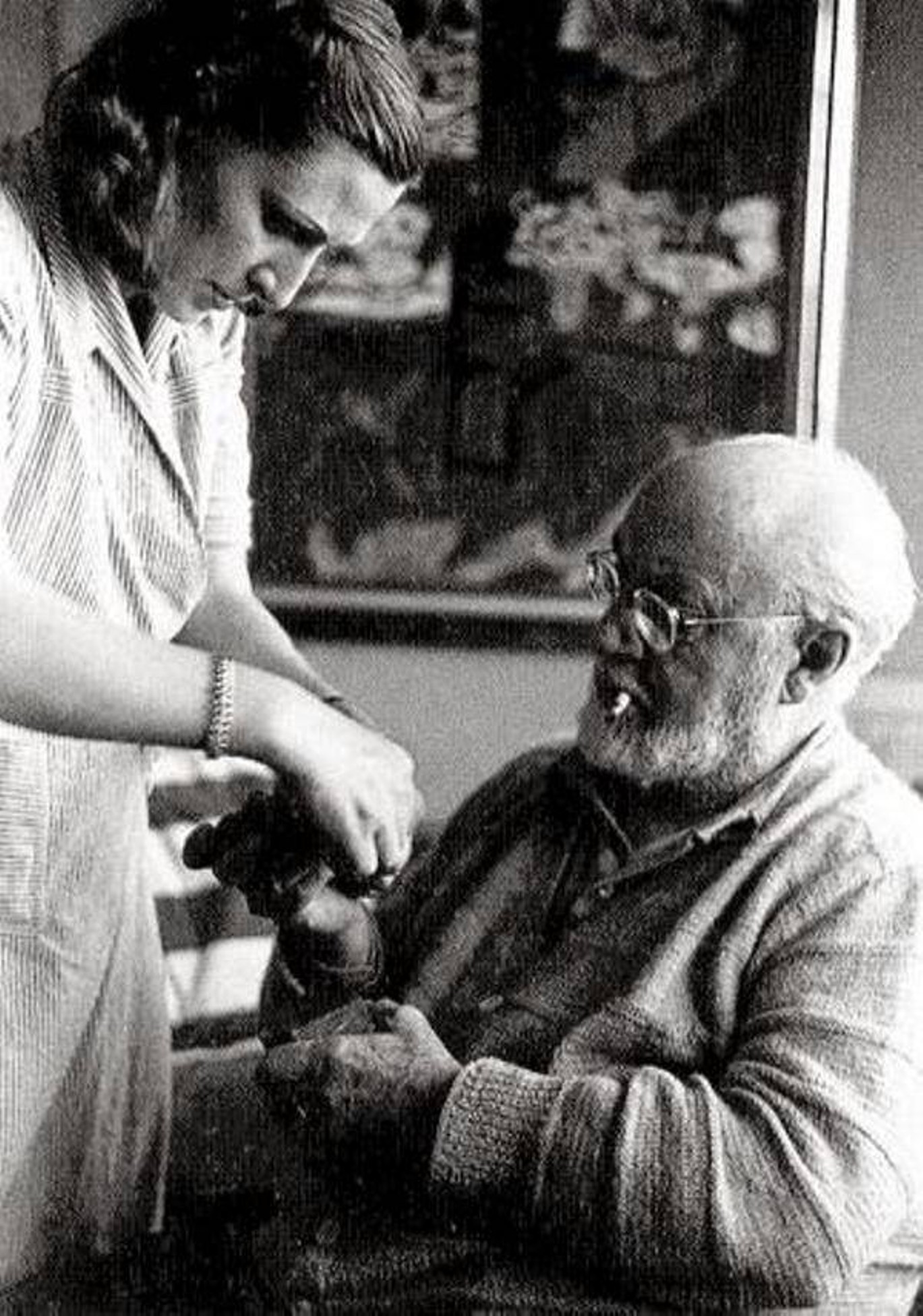 Henri Matisse and Lydia Delektorskaya.
Russian emigrant Lydia, forced to find a livelihood after an unsuccessful marriage, knocked on the door of the Matisse workshop in search of work in 1932, when she was 22.She was lucky to become an assistant master, secretary, and in addition, a nurse with his disabled wife. It is unlikely then, having met the 65-year-old master, she could assume that she would become his favorite model, muse, and so close a person that, as was later admitted, "was for 20 years the" light of his eyes ", and for me he the only meaning of life. "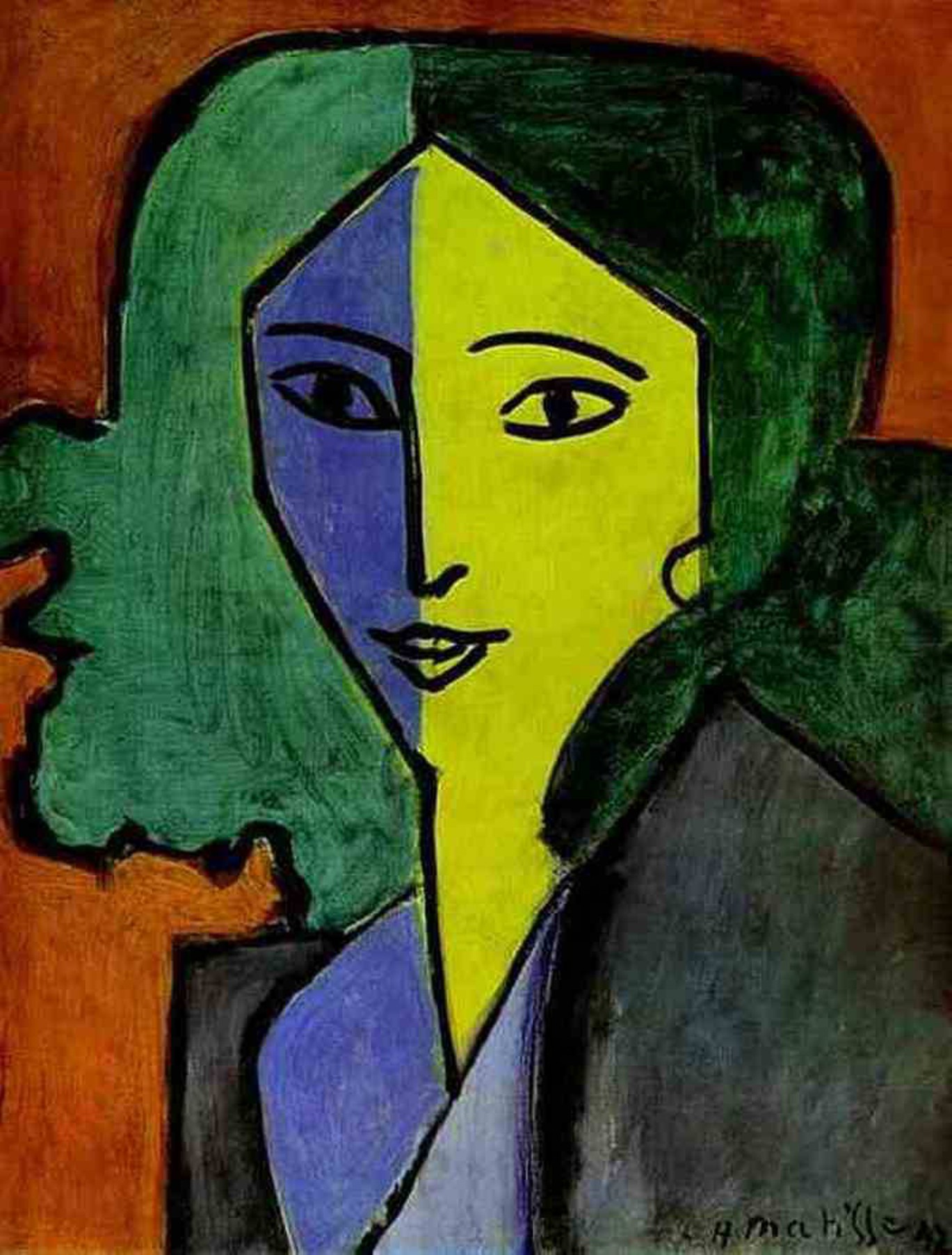 Henri Matisse. Portrait of Lydia Delektorskaya. 1947. The State Hermitage Museum.
"Friend and Assistant", which the artist adored, received from him not only his salary, but also gifts that became invaluable with time — her works. After his death, Lydia lived a long life, but she could never forget Matisse. And may she leave Russia as a child, it was Lidia Delektorskaya who presented her "Matisse" collection to her motherland: not only his paintings and drawings, but also blouses and jewelry in which she posed for the master and his personal belongings. On her tombstone in Pavlovsk it is inscribed: "Matisse preserved her beauty for eternity".
Related news
Portrait of his wife: Russian muses by European artists image, picture