Vegetarian soups: cooking recipes with photos
A real vegetarian soup should be thick and nourishing and at the same time have a gentle, spicy and spicy taste. Such a first course, as a rule, has several secret ingredients and cooking methods. The most interesting recipes for vegetarian soups are presented below.
Spicy cauliflower potato soup: description and ingredients
This dish seems difficult to prepare, but the result is impressive. There are several secrets here. First, roasted cauliflower gives the dish a creamy texture and a nutty flavor and at the same time forms a "cheese" flavor. Roasted cashews with a small amount of vegetable oil along with chilli and paprika provide an appetizing color and a specific pleasant smell. Blended potatoes give the soup a slightly viscous texture that creates the illusion of the presence of melted cheese. In this case, the dish is prepared without adding any dairy products.
To make this soup, you will need:
1 cauliflower head, divided in half;
2 large (or 3 medium) potatoes, about 750 grams in weight;
3 tablespoons of sunflower or rapeseed oil;
3 tablespoons of coconut or peanut butter;
1 large leek;
2 celery stalks, finely chopped;
6 bunches of green onions, previously divided into green and white parts and finely chopped;
4 medium garlic cloves, finely chopped;
sea ​​salt and freshly ground black pepper;
1 teaspoon paprika;
1 chipotle pepper, crushed;
1 cup roasted cashews;
1 liter of almond or any other nut milk;
half a teaspoon of liquid smoke (optional);
up to 2 glasses of vegetable broth or water;
1 minced fresh onion;
1 pack of chopped dried champignons (for serving);
1 cup broccoli florets (for serving).
How to cook such a dish?
The recipe for a vegetarian vegetable soup is as follows. Adjust the rack of the oven in the middle and warm it up to 200 degrees. Cover the baking sheet with foil or parchment paper. Use a wooden skewer to pierce 6 holes in each potato.Bake cauliflower and potatoes until soft for about 1 hour.
Meanwhile, heat the coconut oil in a large frying pan until melted. Add leek, celery, white onion and garlic, salt, pepper and fry, stirring often, to a very soft texture (but do not brown), about 10 minutes. Put the paprika and pepper chipotle, stir. Next, add cashews, mix and put everything in the blender bowl. Then you can proceed to the next step in the recipe for a delicious vegetarian soup.
How to make cream soup?
Take the cooked cauliflower, cut off the green leaves and the central fibrous stem. Put in the blender bowl to mix with cashews. Add almond milk and liquid smoke. Cut half of the whole potato into pieces and place it over the remaining ingredients. Mix in a blender, starting with the lowest speed and increasing it to the maximum. In this recipe for a vegetarian soup, the mixture should be completely homogeneous.
Cut the remaining potatoes in half and grate it directly into the rest of the prepared ingredients. Beat by hand or using a mixer until the soup becomes thick puree.Dilute to the desired consistency with vegetable broth or water, then season to taste with salt and pepper.
Finely chop the green onions and dried champignons, add to the soup, heat the dish to a boil and serve immediately with broccoli florets and a small amount of olive oil.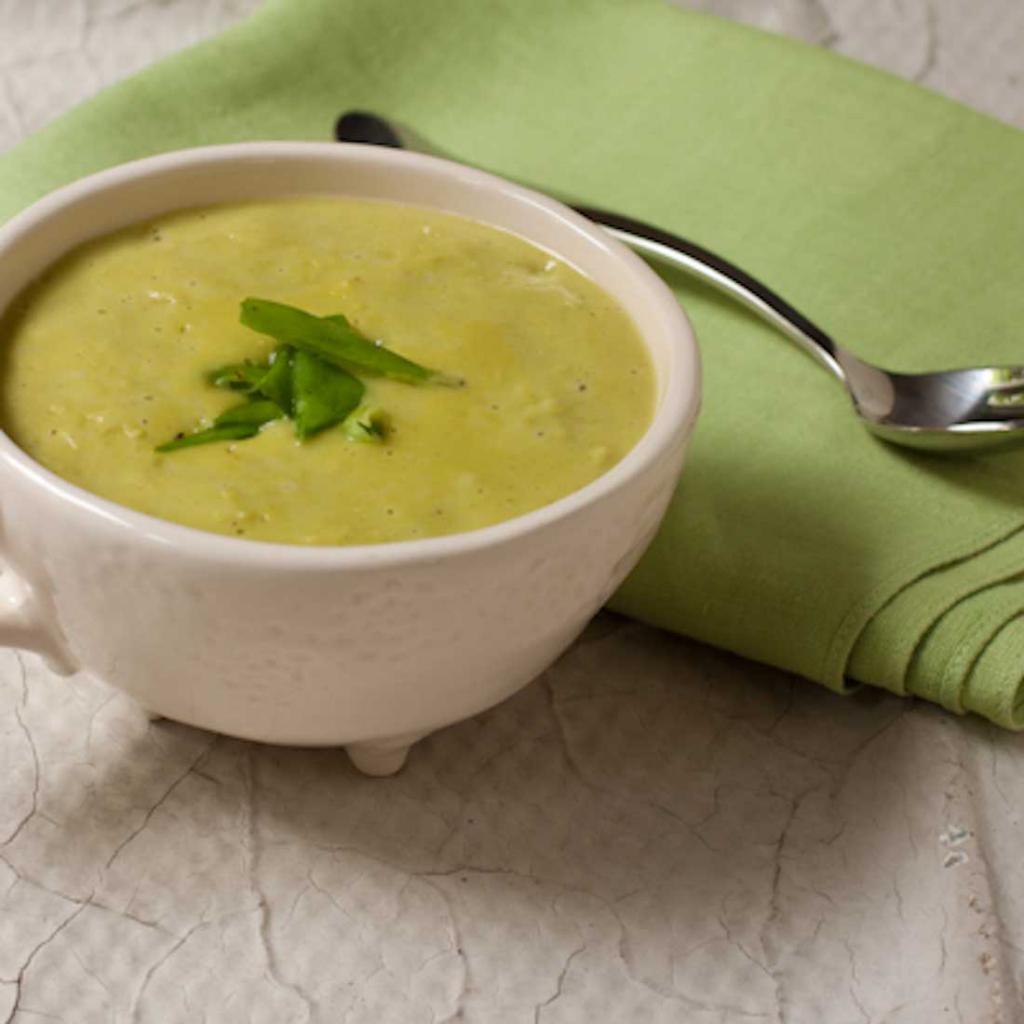 Pea Soup: Preparatory Stages and Ingredients
Peas are a great ingredient for soup. This dish is amazingly simple to cook, and requires only six ingredients. You can easily cook it for lunch or dinner by soaking cashews and rice milk in a bowl, and placing it in the fridge. When it comes time to cook a pea vegetarian recipe, it will take less than five minutes. All you need is:
3/4 cup of raw cashews (120 grams);
3/4 cup rice milk;
one and a half glasses of peas fresh or frozen (200 grams);
2-3 glasses of vegetable broth;
half a teaspoon of sea salt;
1/2 teaspoon black pepper;
1 cup fresh green peas.
How to cook pea green soup?
This recipe is a simple vegetarian soup. Put cashew and rice milk in a bowl and soak for at least 30 minutes.Bring the peas to a boil in a pan with vegetable broth. Cook on low heat for another five minutes.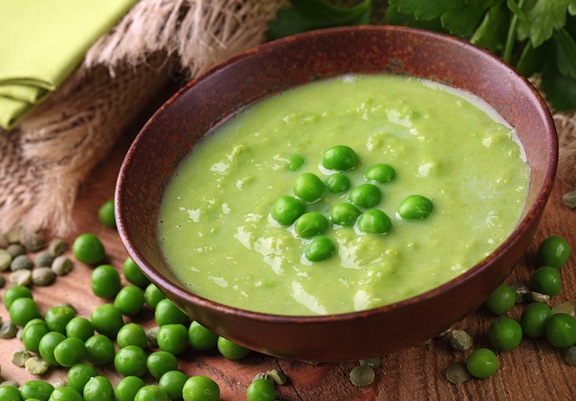 Cut the green peas in the pods into thin slices (diagonally), place in a pan with 1-2 tablespoons of olive oil. Fry them with a little salt and pepper until just a bright green color, about 2 minutes. Immediately remove from heat so that they do not continue to prepare. Further, the recipe for vegetarian soup-puree looks like this.
Put the peas, broth, cashews and rice milk in a blender and mix for a few minutes until smooth. Try the mixture and add salt and pepper, as well as broth as needed, to obtain the desired consistency. Add half the roasted green peas and blend in the mashed potatoes. Pour the soup into the bowls and spread out the remaining peas.
Chickpea, lentil and vegetable soup: ingredients
Looking for new recipes for vegetarian soup? Try making a light and tasty chickpea entree with vegetables and tomato sauce. This soup is not only very tasty, but also healthy. For him you will need:
olive oil - one and a half tablespoons;
onion - 1 piece, finely chopped;
carrots - 1 large, peeled and diced;
Bulgarian red pepper - 1 piece, cut into cubes;
potatoes - 2 medium root vegetables, peeled and crushed into cubes;
canned chickpeas - 800 grams (without liquid);
lentils - 300 grams;
vegetable broth - 1 liter;
dill - 3 tablespoons chopped;
salt.
How to cook lentil chickpea soup?
To realize the recipe for a vegetarian chickpea and lentil soup, you should start by heating the oil in a large frying pan over moderate heat. Add onions, carrots, peppers and potatoes with a pinch of salt, fry the ingredients for 8-10 minutes until soft. Put chickpeas and lentils in a mixture, mix well and cover with a lid for a few minutes.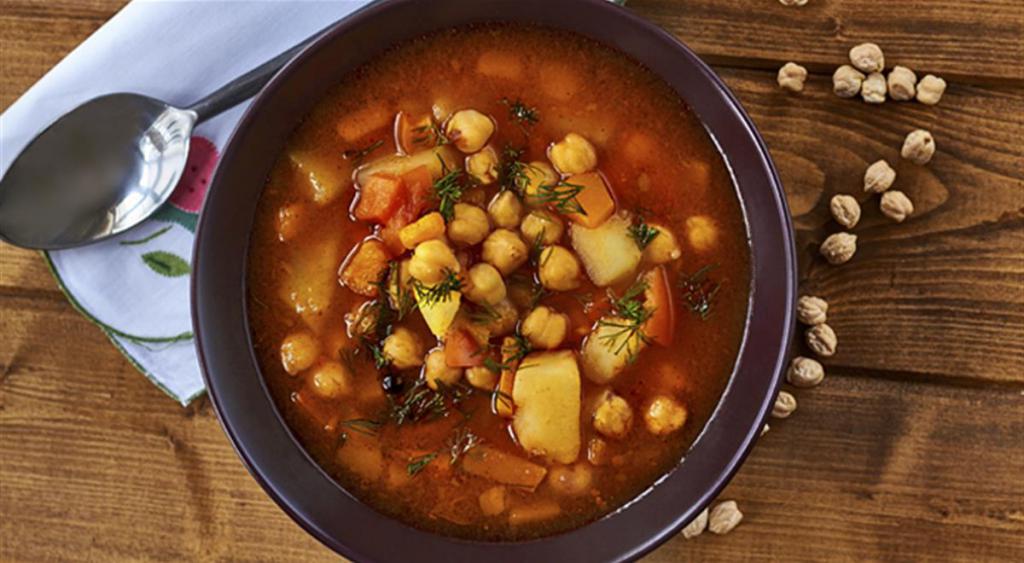 In a saucepan, bring the vegetable broth to a boil, put the mixture prepared in the previous step into it. Mix well, bring to a boil, and then cook on low heat for 20-30 minutes. Season with salt and pepper, serve hot. As you can see, this recipe for a vegetarian lentil soup with chickpeas is very easy to make.
Spicy Veggie Black Bean Soup: Ingredients and Recipe Variations
You can cook this tasty and healthy soup in less than an hour. In addition, you can add to it any additional components to taste. However, do not add too many different products, otherwise the taste of the dish will be somewhat lost. If you prefer a cream soup, you can mix it until smooth in a blender after cooking. If you prefer a semi-liquid first course, you can chop half of it, leaving a whole bean. If you like heterogeneous soup, serve it immediately, without grinding anything.
In addition, you can cook this dish in a slow cooker, especially if you use dry beans. If you take canned beans, all cooking will take less than an hour. In general, it is from the beans turn out the most delicious recipes for vegetarian soups. The option below requires the following components:
3/4 glasses of water;
2 tablespoons of olive oil;
1 red onion, chopped;
1 garlic clove, minced;
1 / 3-1 / 2 jalapeno pods, finely chopped;
2 medium sized carrots, cut into half rings;
1 red bell pepper, chopped;
4 teaspoons ground cumin;
2 teaspoons chili powder;
1/4 teaspoon of red pepper flakes (or to taste);
1 can of sweet corn preserved (it is necessary to drain the liquid and wash the grains);
3 cans of canned black beans (you need to drain the liquid and rinse the grain);
4 glasses of vegetable broth;
1/2 lime, juice;
1/4 cup cilantro, shredded;
sea ​​salt and pepper, to taste;
any fillings: avocado, chopped corn chips, cheese, etc. (optional).
Cooking Spicy Bean Soup
Heat the oil on the bottom of the soup pot or bowl of the slow cooker. Put onions and garlic, with a pinch of sea salt and pepper. Fry, stirring occasionally, until the onions are translucent. Mix with jalapenos, carrots, red pepper, cumin, chili and red pepper flakes, pour in water. Simmer until the vegetables are soft, about 7-9 minutes.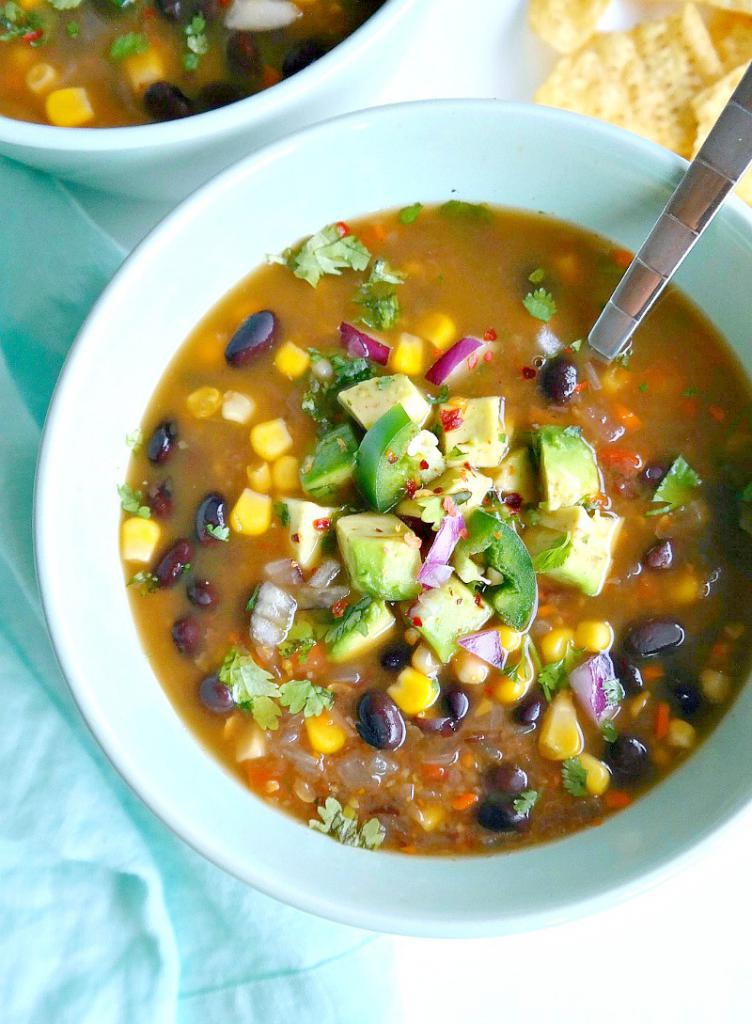 Add beans, corn and broth. Bring to a slow boil over moderate heat. Boil until the beans are soft and the broth is not soaked with the taste of all the ingredients. It takes about 20 minutes. Remove from heat. Add lime juice and cilantro, adjust the amount of pepper and salt.
Vegetarian tortilla soup: ingredients
This is a hearty, fast and delicious corn tortilla soup that can be prepared at any time. If you cannot find dried chilli, you can consider various replacement options. All you need is:
1 dried smoked chili;
olive oil;
1 medium white onion, diced;
2 garlic cloves, pressed or ground;
1-2 medium jalapenos;
1 teaspoon ground cumin;
400 grams of tomato puree or thick tomato paste;
4 glasses of vegetable broth;
400 grams of canned corn (you need to drain the liquid and wash the grain);
sea ​​salt;
6 corn tortillas (for tacos or tortillas);
1 avocado;
from 2 to 4 radishes, cut into very thin rings;
50 grams of vegetarian crumbled cheese (optional);
1 handful of cilantro leaves, chopped;
1 lime, cut into small wedges.
Cooking a tortilla soup
This recipe for a vegetarian soup is made as follows. Preheat oven to 220 degrees. Slice the corn tortillas into 3-4 cm wide strips. Remove the seeds and membranes from the jalapenos and slice them. Peel off the avocado, cut the flesh into cubes, then squeeze some lime juice on them to prevent the vegetable from darkening.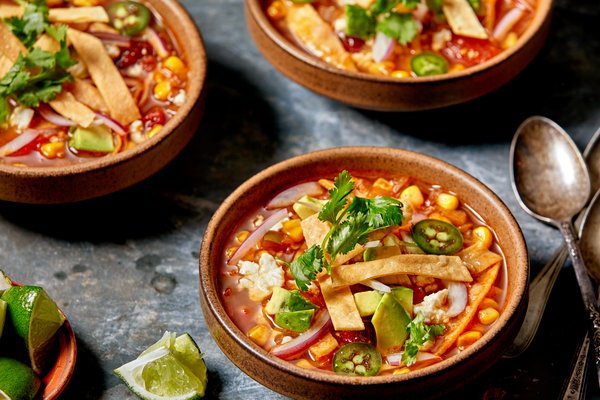 Cover the baking sheet with a thin layer of butter. Spread the strips of tortilla in a single layer.Bake for 6 to 8 minutes or until golden brown. While they are hot, season them with salt.
Then place the dried chilli on a baking sheet and bake for 1 minute, or until it warms up. When it is cool enough, cut it and remove the seeds.
Heat a little olive oil in a medium saucepan or bowl. Add onions, garlic and jalapeno, fry for 4 to 5 minutes, stirring occasionally. Stir in cumin, then with tomato puree (pasta) and vegetable broth. Boil for about 3 minutes, then add canned corn and chili. Boil for 8-10 minutes, or until the soup thickens slightly, stirring occasionally. Add pepper and salt to taste.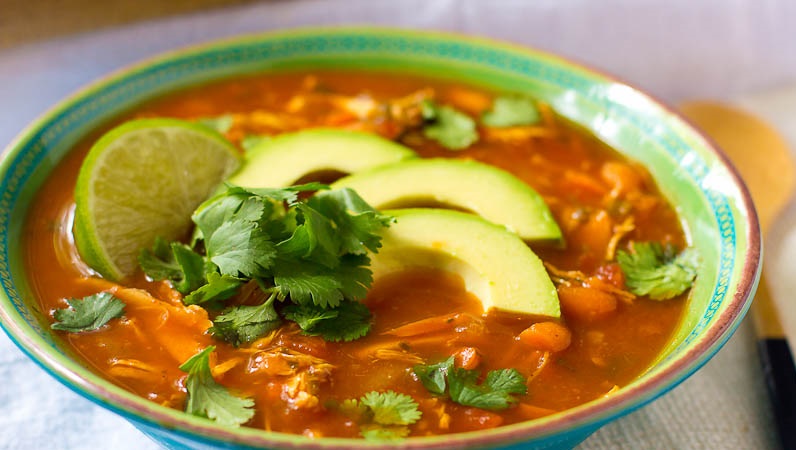 Remove the dried chili peppers from the prepared dish. Spread out evenly avocados, radishes, tortillas, and cheese on serving plates. Pour the soup over these ingredients. If desired, add cilantro pieces and serve with lime slices.
Related news
Vegetarian soups: cooking recipes with photos image, picture, imagery