What is stained glass? Types and styles of stained glass. Stained Glass Tiffany
What is stained glass? Shimmering glare, the light emanating from the inside, the overflowing light on the walls, the patterns running away upward - you can feel all these effects if you allow to break into your personal space to one of the centuries-old art forms.
The desire to beautifully equip their home was inherent in man in different time periods. The masters of antiquity left a noble heritage for us. It turns out that the mysterious atmosphere in the house can be created using the game of light.
Definition
Since we are going to talk about a work of art that has long been known and quite popular nowadays, we will try to give a definition that generalizes to it.
What is stained glass? This is a color decorative image intended for the design of any openings and designed for the penetration of sunlight. However, they can be described in a different way. It all depends on the technique of execution and the object that serves as the basis for the decoration.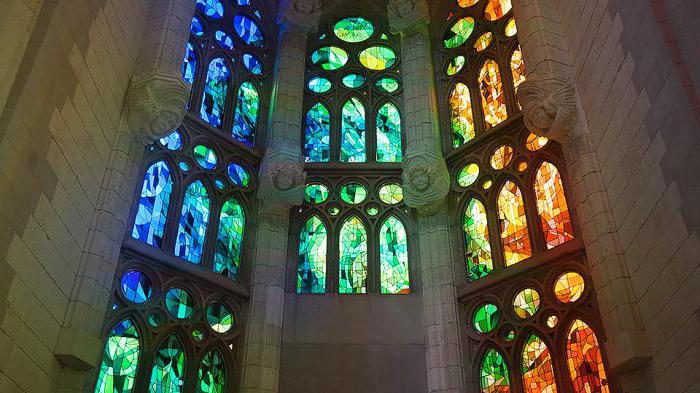 History
Long since the stained glass windows served as decoration for cathedrals and monasteries, but over time they penetrated into public and residential premises. Original works of skilled craftsmen are preserved in France, England and Germany.
There was a time when interest in the stained glass window was lost. At the beginning of the XVIII century, after a long time of oblivion, the court masters of Western Europe worked diligently to restore the old technologies. Meanwhile, new recipes were created for the dyeing of glass and the ways of combining individual elements were gradually improved.
Some tried to imitate stained glass on the glass using drawings on paper that were glued to the window openings. In this case, oil paints were used, which eventually lost their properties. During this period, stained glass art was little known in the world market.
At the beginning of the 20th century, the stained glass technique acquired a wide scope and rapidly took a step forward. The development of technical progress has served to simplify and speed the production of various materials necessary for the implementation of the scenery. The scope of their application has expanded significantly.In the technique of stained glass, decorations are made for the decoration of mirrors, furniture, doorways, ceilings, lamps and jewelry.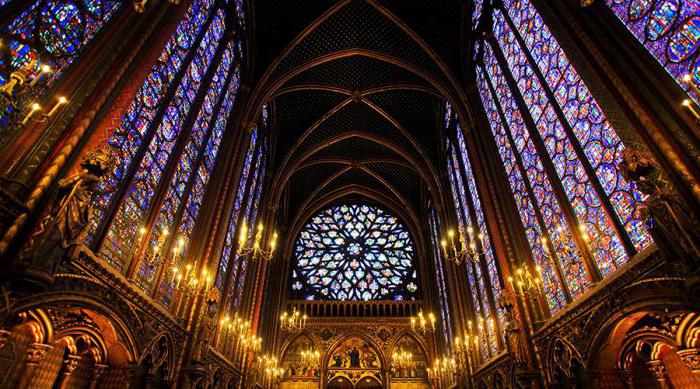 Tools used
To create the stained glass masters use a grinding machine, a glass cutter, a soldering iron and a ruler on the suction cups. Substances for coloring and adhesions are sold in powder form, therefore there is a special strainer for their distribution.
The following materials may be needed: brushes, metal tape, glue and transparent paints. If you are a creative person and you want to master the stained glass case yourself, then you have such an opportunity. For this purpose, teaching aids are being published and materials and tools are being produced, which can be purchased in specialized stores.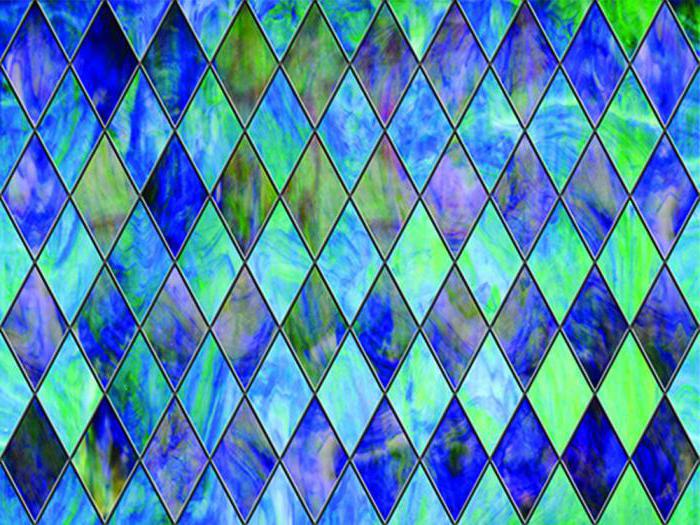 Equipment
What is stained glass in the modern sense? This type of monumental art includes any transparent images made either on the glass itself or on its individual elements. They can represent a complete picture or ornamental decoration. We have already mentioned above what stained glass can be used to fill in which applied household items.
The ideas, which were embodied by modern professionals, greatly expanded the technological execution of patterns. For example, previously, lead lintels were used to bond glass pieces. With the metal foil that came to replace them, it became much easier to work. Due to its flexibility, it makes the product more elastic and allows you to fold fragments of the pattern with the use of bumps or depressions. Connecting circuits made in this way look thinner and sleeker.
Popular steel compositions deposited on plastic windows. Their size varies with light access to the room. For their performance used combined equipment. Pictures can be laid out from colorless glasses in combination with painted ones. All drawing or its separate parts are made out by a list with use of ceramic paints.
Stained-glass windows on glass can be made entirely of dense transparent material, onto which a contour of a geometric pattern or composition of flowers is applied. The final stage in this technique is the application of colorful decorations.
We use pre-processed glass. There are many such ways. These include various methods of cutting, engraving and polishing. To create an imitation of deformed glass, it is treated with chemical reagents. This method is called etching. A similar effect is achieved by an air jet with sand, which is directed to the surface of the glass.
In particular, the types of stained glass windows differ in their technique. Despite the versatility of such skill, there are still four main types that can be distinguished from them: Gothic (classic), fusing, Tiffany stained glass, imitation of classical works.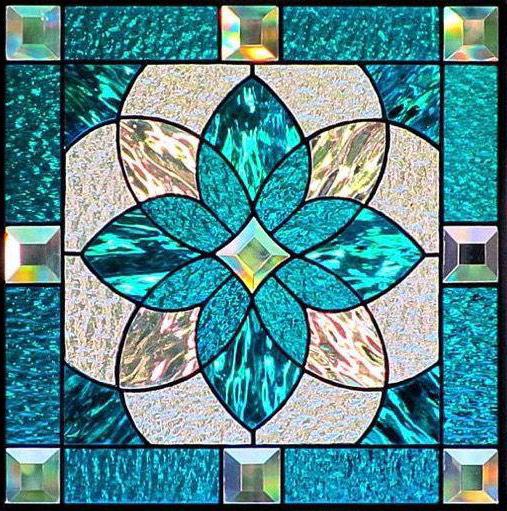 Gothick style
Working on the compositions, the masters tried to reflect their commitment to something sublime, subtle. Gothic stained glass is the embodiment of grace and grandeur. To highlight these features, the elements of the stained glass were created against the background of the interior combined with them.
The basis was architectural buildings with huge windows, each of which required the presence of an image in this style. Most often, the viewer could observe plot scenes of a domestic and religious nature.The glass was painted in bright colors, and then it was scraped with silhouettes of people and picturesque patterns.
Gothic stained glass inherent rich colors and rapidly stretching up the form. The main colors for the image of the ornament were red, purple, blue, yellow and brown. To give the contrast used black, green and ruby ​​tones.
Tiffany
What is a stained glass window created using Tiffany technique? This is lively graphics, distinguished by the naturalness of the depicted images, just as an artist can express in a picture painted on canvas.
The masterpiece art received such recognition thanks to its founder Louis Comfort Tiffany, who also developed material that is indispensable for this type of work.
Products made of opal glass have always been distinguished by an interesting internal structure and a rich palette of colors. Due to the convexity and somewhat concave of some elements of the ornament, an impressive picture of shimmering tones is created. To achieve a similar effect allows professional technology used by masters.
Basically it is a manual work that can no longer be repeated.A kind of mosaic is laid out of glass of various sizes, each fragment of which is framed in a copper ribbon. The seams secured with lead-tin solder make the product more substantial. This determines the quality and uniqueness of handmade. Author's masterpiece looks very complicated and exclusive.
To create an ornament, very small glass pieces are used that are machined with high quality. Thanks to this product is obtained openwork. Such stained glass windows, made in a classic style, are suitable for any type of interior.
Tiffany's stained glass windows are significantly different from the classic ones and are not tied to one guide profile. Since this is a very laborious process that requires a lot of time and money, it is also expensive.
To bring a special zest to your interior, you can use small fragments of this type of stained glass. With the help of art, made in such a technique, professionals create fascinating small decorations, lampshades, vases, ceiling lamps and other attributes.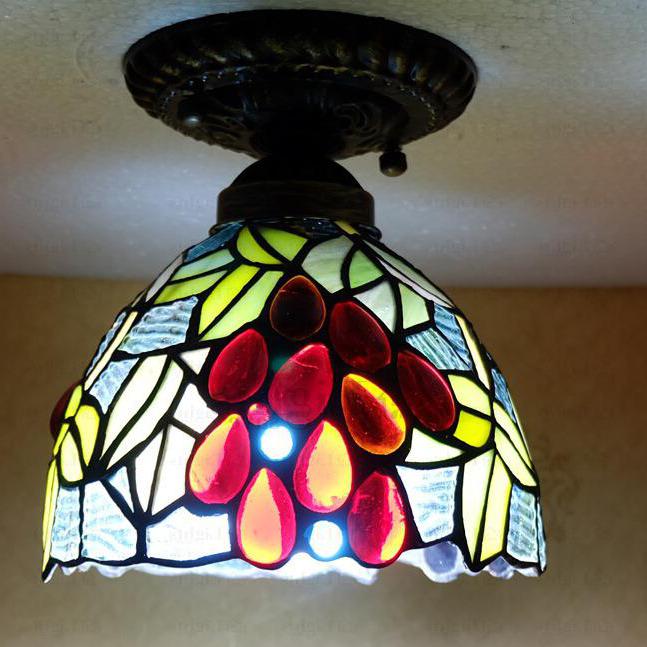 Fusing
The creation of stained glass windows using the fusing technique is different in that it results in a continuous picture without traditional joint seams. A multi-layered color pattern is laid out on colorless glass and placed in a special furnace.Under the influence of the optimum temperature, the fragments of the image are sintered and look like a single whole. By melting, you can combine additional elements, such as silver wire.
Imitation of art stained glass
Simplified versions of artistic compositions allow you to beautifully and cheaply equip the interior of any room. In order to best reflect the classic stained glass window, several types of technology are used. Here are the most popular ones:
photo printing on glass;
the image applied in the form of artistic painting;
the technique of the filler contour stained-glass window: a polymeric base of numerous modules is created on the glass surface and a colored lacquer is poured into each of them;
film stained glass: using a tint film, imitation of individual elements of glass is performed, and the contours of the joints are formed from self-adhesive lead broaches.
Photo printing and film stained glass are most often used for the decoration of ceilings.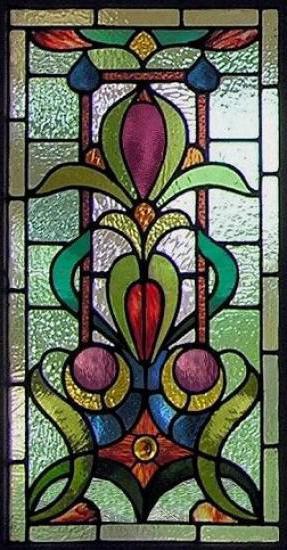 Styles
As a rule, modern colored stained glass windows are saturated with a secular theme and meet the aesthetic requirements of the design. In order for a decorative ornament to be harmoniously combined with the main interior, it is important to take into account its affiliation with a particular style and color scheme.A stained glass window will truly decorate a room only if it fits into the interior to the maximum.
Popular styles of stained glass: modern, classic, gothic and images of the Egyptian direction. Patterns in the form of abstraction are suitable for many interior designs.
Conclusion
Perhaps you think that stained glass is too expensive. Or, like many people, agree that works of art are only in a museum.
However, this is not always the case. In residential buildings, art paintings from glass began to be used after the Art Nouveau style appeared. Regarding the cost, everything is solved simply. First, thanks to modern technological advances, the cost of making stained glass windows has significantly decreased and, accordingly, their price.
Related news
What is stained glass Types and styles of stained glass. Stained Glass Tiffany image, picture, imagery